When Obama Meets Modi: A Search For Common Ground
Their similar experiences may have opened a door to a personal relationship, but an upcoming summit will focus on what each country needs from the other.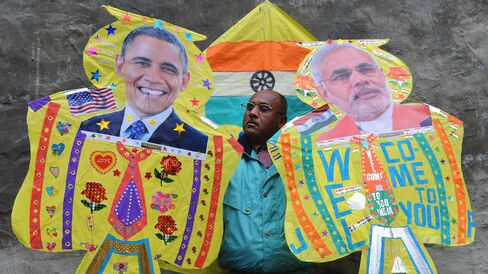 It started with a phone call last May. On the line from Washington, D.C., was President Barack Obama calling to congratulate Narendra Modi, who had just won a landslide victory that would make him India's prime minister.
Like a couple of Morning Joe panelists, the two pols quickly found common ground in the art of campaigning. Modi's winning team had drawn lessons from Obama's tech-savvy 2012 operation, deploying text messages, twitter feeds, even appearances by holographic images of the candidate. The two men marveled at "how their campaigns kind of changed the way in which politics was practiced in their respective countries," said Ben Rhodes, deputy national security advisor.
Now, what began as mutual appreciation for political skills has ripened into a diplomatic partnership that is helping to remake Indo-U.S. relations. "There is some kind of chemistry that has developed between these two," said Gurcharan Das, a prominent Indian writer and former chief executive of Procter & Gamble India.
Obama left Saturday on a brief visit to New Delhi, where he will hold talks with Modi on military hardware co-production, clean energy research and trade before heading to Saudi Arabia to meet the new king, Salman bin Abdulaziz.
Whatever differences there are between the Indian and U.S. positions—and there are some—could be easier to navigate thanks to the leaders' shared experiences.
Both men rose to national power from humble origins. Obama, the nation's first black president, grew up without a father following his parents' divorce. Modi in his youth worked as a chai wallah or "tea boy," serving rail passengers in Gujarat, the state he would later run as chief minister.
Both men run disciplined, leak-averse administrations that revolve around their personal appeal not their party label. Neither man enjoys the back-slapping, faux-friendliness of conventional politics.
And confronted with obstructionist legislatures, both have chosen direct action over impotence. Obama has angered Republicans with a flurry of executive orders on issues such as immigration. Modi, whose Hindu nationalist Bharatiya Janata Party (BJP) lacks a majority in the upper house of India's parliament, has resorted to a similar device known as an "ordinance" to implement land acquisition and coal mining reforms.
The Indian leader has brought his presidential style of campaigning to governance, centralizing power in his office while sidelining cabinet ministers. Small teams answering directly to Modi monitor India's relations with the U.S., China and Japan, said W.P.S. Sidhu, senior fellow at the Brookings India Centre in New Delhi.
The productive Obama-Modi relationship surprised observers in both countries who expected the Indian politician to hold a grudge over the State Department's refusal to grant him a visa in 2005. The decision stemmed from allegations—which Modi repeatedly denied—that he had failed as chief minister to protect local Muslims during riots in Gujarat that killed nearly 1,000 people. A subsequent government investigation found no evidence to support the claims.
Since taking office, Modi has placed his desire for U.S. technology and business expertise above personal feelings. He and Obama cemented their bond last year during Modi's visit to Washington when the president gave his guest a personal tour of the Martin Luther King memorial. The episode highlighted "a shared sense of struggle and shared values between the United States and India," said Rhodes, which the leaders discussed.
As gifted orators, neither Modi nor Obama shies from center stage. When Modi visited the U.S. last year, he received a rock star's welcome from almost 19,000 rapturous members of the Indian diaspora at an unusual Madison Square Garden rally. The event recalled in microcosm Obama's 2008 appearance before a crowd of more than 200,000 in Berlin.
Still, all the talk of a bond between Indian and American leaders prompts eye-rolls among some. After all, in 2010, Obama referred to Modi's predecessor, Manmohan Singh, as "Mr. Guru" while the restrained Indian intellectual labeled the American "a personal friend." None of that bonhomie did much good when it came to implementing the landmark 2005 civil nuclear deal. Stalled for nearly a decade, it remains on the table for the current summit.
"I can't believe they have much of a connection," said Ashok Malik, a prominent columnist who advised the Modi campaign. "One is a natural grass-roots politician and the other should have been in a college teaching."
There are differences. Modi is a vegetarian while Obama famously craves steak. Before becoming prime minister, Modi was chief minister (analogous to a U.S. governor) of Gujarat, an Indian state with a population roughly akin to that of France. Obama was a former Illinois state representative who had served less than one term as a U.S. senator when he ascended to the presidency.
Likewise, Modi is a strong advocate of the private sector, declaring earlier this month that "the government has no business to be in business." Obama has been good to the private sector—corporate profits have roughly doubled on his watch and stock prices have similarly soared—but few C-suite denizens regard him as one of their own.
So do personal ties between leaders really matter? At the margin, they may lubricate rough patches. But high-level diplomacy isn't Facebook; it doesn't rise or fall on "likes." Presidential overconfidence about the force of personality often has misfired. (Franklin D. Roosevelt thought he could manage "Uncle Joe" Stalin while George W. Bush thought he detected a soul when he looked into Vladimir Putin's eyes.)
If the Obama-Modi summit is a success, it won't be because they like each other. It'll be because they see an opportunity to advance the national interest.
Obama sees Indian cooperation as essential to addressing climate change, boosting U.S. exports and helping balance the rise of China. For Modi, American advanced technology, management skill and investment could make the difference in his bid to transform India.
"They're both very transactional people focused on nation-building at home," Malik said. "They recognize they need each other."
That might be the strongest bond of all.
Before it's here, it's on the Bloomberg Terminal.
LEARN MORE