Steve King 1, DREAMers 0
The Iowa congressman finds few critics, even though Democrats are daring them to talk.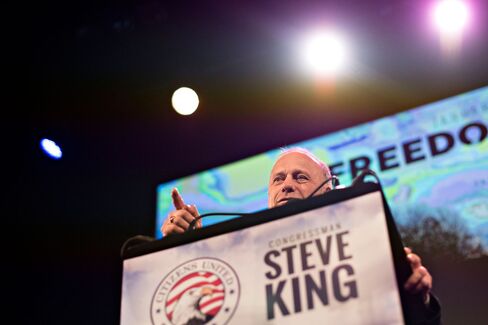 DES MOINES, Iowa—It's no secret: Democrats and immigration reform activists are trying to make Saturday's Iowa Freedom Summit a referendum on Representative Steve King. The Iowa congressman is one of the House's restrictionist stalwarts, a punching bag of DREAMers and MSNBC hosts, and he's gearing up to attach border safety and deferred action-repealing amendments to Homeland Security spending bills. On Friday, during and after an interview with radio host Simon Conway, King tore into the Obama administration's immigration policy and even defended his comments about Mexican drug smugglers crossing the border with "calves the size of cantaloupes."
"Anything I have said has been objectively and demonstrably true," said King, "right down to if you want to measure them."
On Saturday morning, conservatives had their eyes out for any DREAMers, or other reform supporters, who might show up outside for a protest—or, as has frequently happened, stand up during a speech and shout it down. At 9 a.m., when the event kicked off, there was no apparent DREAMer activity, with most protesters focusing on big money or religion in politics. Still, radio host Jan Mickelson spooled out an analogy between illegal immigrants and people trying to break into a hotel to enjoy the free breakfast.
"That's pretty much the same argument protesters outside are using," said Mickelson. "They haven't checked in. They're using property not of their own. They're demanding room service. They say they can't be evicted now because their kids were born in that room they've busted into."
The crowded Hoyt Sherman Place ballroom burst into laughter and applause. It did the same when King himself stumbled over what was supposed to be an argument about Iowans being welcoming to legal immigrants. "We have people from every planet," he said. He corrected himself to say he'd meant "every continent."
"The people outside may be from other planets!" he joked.
There simply wasn't any interest, from Republicans, in denouncing King or his views. They didn't talk to him, but on policy, they were maybe inches apart.
"I don't want the Senate to pass an immigration bill until the House has passed an immigration bill," said Iowa Senator Chuck Grassley after his speech. "Even though I voted against it, I was part of a four-month process, and the House did nothing with it."
Ben Carson, who roamed the stage and moved smoothly into a series of policy talks, started his immigration remarks with a question.
"Do we have an illegal immigration problem?" asked Carson. He raised his own hand; nearly every hand in the room rose with it.
"There wouldn't be people coming in here if there wasn't a magnet pulling them in," said Carson. "You have to reverse the magnet." That meant no more work permits for the undocumented. "Instead of a pass from the government, you should get criminal activity on your record."
The state's Republicans weren't nearly as unanimous as the candidates showing up in Des Moines. Before the event began, Iowa GOP Chairman Jeff Kaufmann told reporters about a call he'd had with Jeb Bush. The former Florida governor could rattle off the name of Iowa towns with big Latino populations, and talk about how he'd compete for them.
"I can't emphasize enough how many different views of immigration I've heard expressed," said Kaufmann. People weren't just echoing talk radio and King. "It is much much more complex. It's going to be difficult, if you really want to be true to the actual issues, for you guys to write about that issue."
Making it a little more difficult: Neither Bush, nor Florida Senator Marco Rubio, nor Kentucky Senator Rand Paul, were speaking at the summit. That shrunk the number of 2016ers who might take the conservative base's temperature on a softer immigration policy.
Before it's here, it's on the Bloomberg Terminal.
LEARN MORE