Josh Earnest's DeflateGate Touchdown
What do the Patriots' quarterback and the White House press secretary have in common?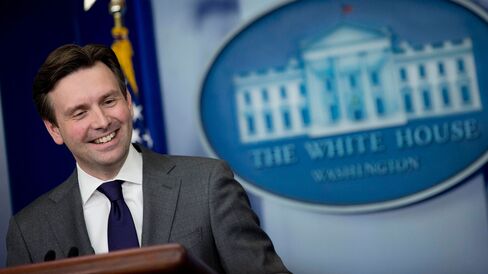 DeflateGate is bringing out everyone's inner heckler. Asked during Friday's briefing about President Barack Obama's reaction to the football controversy and New England Patriots quarterback Tom Brady's unwieldy news conference Thursday, White House Press Secretary Josh Earnest said he hadn't spoken with the president about it, but that he had his own perspective.

"I mean, the one thing I can tell you is that for years, it's been clear that there is no risk that I was going to take Tom Brady's job as quarterback of the New England Patriots," Earnest said. "But I can tell you that as of today, it's pretty clear that there's no risk of him taking my job either."
As the room erupted in laughter, Earnest seemed pretty proud. "I came up with that on my own," he said.
Earnest's inner diplomat would not be denied. "The thing that is clear, though, about Mr. Brady's job is that it does cause him to make snap decisions in very high-pressure situations, and–and he does it very well," Earnest said.

"He also is in a position where those decisions are regularly second-guessed. So I think certainly on that level, he and I can relate to one another."
Before it's here, it's on the Bloomberg Terminal.
LEARN MORE