Glued to TVs, Cubans Cheer U.S. Talks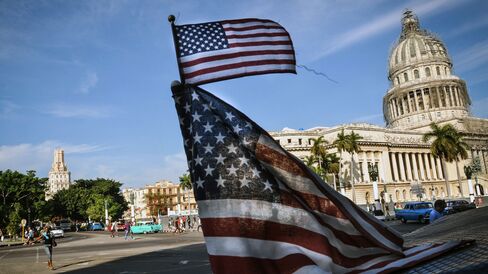 As U.S. and Cuban diplomats met to begin restoring diplomatic ties after five decades, Havana's residents followed the developments with a fervor normally reserved for a Papal visit or a sporting championship.
Cuban media aired and rebroadcast briefings throughout the two days of negotiations, a rarity in a society where the press is state-run and people often get news from relatives or friends. While U.S. and Cuban officials said differences between their governments remain "profound," participants from both sides smiled broadly for the public and said the talks were productive.
Clara Gonzalez Perez, a 56-year-old nurse, said she gathered around the TV with family for two days to get every bit of information about "la apertura," or the opening, between the nations.
"There's not a baseball game that people here would watch with as much excitement as for these talks," Perez said. She's so enthusiastic she said she began hugging Americans visiting as part of cultural tour groups in the streets, saying, "I love Obama! We love America!"
U.S. Assistant Secretary of State Roberta Jacobson, the highest-ranking diplomat to visit Havana since Jimmy Carter's presidency, cautioned that the two sides need to "overcome more than 50 years of a relationship that was not based on confidence or trust." She said it isn't clear Cuba is ready to move as fast as the U.S. in loosening economic restrictions.
'Controlled Way'
"What Cuba is looking for, first and foremost, is new economic activity," said Ted Piccone, a senior fellow at the Brookings Institution in Washington. "The U.S. economy, the largest in the world, is right next door and really important to their economic future. But they want to do it in a controlled way on their terms."
Even winning Senate confirmation for an ambassador could prove difficult for U.S. President Barack Obama. Cuban-American members of Congress, including Republican Senator Marco Rubio of Florida and Democratic Senator Bob Menendez of New Jersey, have assailed Obama's Dec. 17 move to reestablish ties, signaling a battle with Congress over the half-century-old embargo.
That uncertainly didn't damp the excitement among many Havana residents.
"We're very hopeful that this restart in relations will bring economic growth to our country," said Laura Ruiz Hernandez, a 25-year-old stay-at-home mother.
Human Rights
The high hopes will have to wait until diplomats are able to iron out crucial differences. U.S. officials pressed the Cuban government to respect freedom of speech, assembly and dissent. The Cubans countered by accusing the U.S. of rights violations, citing killings of unarmed black men by police and the alleged mistreatment of detainees at the Guantanamo Bay military base.
Some Cuban critics of their government weren't satisfied either. Berta Soler, the leader of the Ladies in White human-rights group, refused to attend a private meeting that Jacobson had on Friday with activists and other civil society groups. Soler said too few opponents of the new U.S. approach to Cuba were included. Soler and her supporters have been repeatedly detained for marching in public against the Cuban government.
The diplomats also clashed over a preferential U.S. asylum policy that Cuba says encourages dangerous illegal migration and over Cuba's inclusion on the State Department's list of state sponsors of terrorism.
Cynthia Arnson, director of the Latin America program at the Wilson Center, a Washington-based policy group, said in an interview that "in general, I think progress will be slow."
Flags Flying
A date hasn't been set for the next round of talks, although two officials who weren't authorized to discuss the issue publicly said they may take place as early as next month in Washington. At their closing news conferences, neither side ventured a guess as to when Cuban and Americans flags will fly over embassies in their respective capitals.
Carlos Hernandez Morejon, a 77-year-old retired electrician, watched the news conferences over and over. He said he expects quick progress in some areas, with the easing of U.S. export restrictions helping Cuban farmers get American agricultural equipment. Contrasting the U.S. relationship with Cuba to the one Washington has with China, Morejon said it's time for a change.
"We're so much closer to the United States and we're all Americans, so Cuba-U.S. relations are the most logical in the world," he said.
Before it's here, it's on the Bloomberg Terminal.
LEARN MORE