Colorado Governor Points Out the Flaw in Obama's View on Marijuana
Regulating recreational marijuana would be easier for states if the federal government legalized it.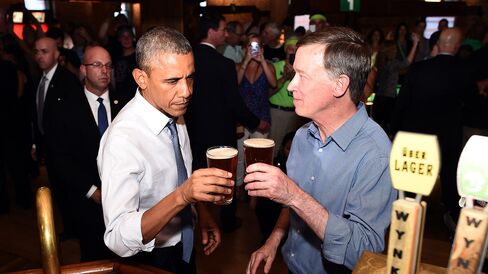 During his interview with YouTube vlogger Hank Green Thursday, the president promised that the federal government wouldn't waste resources trying to overturn successful recreational marijuana measures. What he didn't say, however, was what his administration might conceivably do on the national level in terms of legalization.
The problem with that half-in, half-out policy is that regulating the legal marijuana industry would be a lot easier if the federal government acted first. That was the gist of an interview from Colorado's Democratic Governor John Hickenlooper—a long time opponent of recreational pot—who said Friday that legalization was "a bad idea."
Colorado passed Amendment 64 in November 2012 and began selling marijuana in January 2014. The rollout of the amendment has been called "largely successful" by the Brookings Institute, but Hickenlooper said that came only after a year of work (and some 80-hour weeks) setting up the regulation system.
"We thought it was going to be very tough and it's been very tough," he said, noting that while the federal government regulates alcohol, there is no equivalent for the marijuana industry. "There's nothing," he said. "We're starting from scratch and we don't have a federal partner. Of course it's still illegal federally."
Banking is another issue, since "most banks and credit unions still steer clear to avoid bureaucratic red tape and risk of hefty fines, since weed is illegal on the federal level," Rolling Stone noted. But without bank access, the legal marijuana industry is still one step away from full legitimacy. "No one wants it to be a cash business," Hickenlooper said. "If you wanted to guarantee corruption and organized crime involvement, what better way than to make it a cash business." The state recently approved a credit union dedicated to the pot industry, but it is still waiting for federal approval.
Before it's here, it's on the Bloomberg Terminal.
LEARN MORE