Reid Shrugs Off Injuries, Criticizes NFL Over Deflated Footballs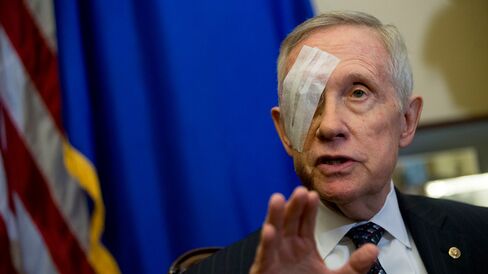 Senate Minority Leader Harry Reid said he hopes to return to work full time Feb. 2 following surgery next week to repair facial bones and drain blood off of his eye.
In his first news conference since a Jan. 1 accident while exercising, the Nevada Democrat Thursday shrugged off his injuries, including four broken ribs. He fielded questions on a range of topics, including allegations that the New England Patriots used under-inflated footballs in last week's conference championship game against the Indianapolis Colts.
"I can't believe the National Football League, with the billions of dollars they make, couldn't at least determine how much air should be in a football and why it should be left up to the teams," Reid told reporters in Washington.
As for his broken ribs, the former amateur boxer said, "They're so meaningless it's hard to believe."
"I broke four ribs, but that's so minor," he said.
Reid, who lost his role as Senate majority leader to Mitch McConnell at the start of the year, also suffered a concussion and broken facial bones near his right eye socket in the accident. He said his doctors are optimistic he'd make a full recovery and repeated plans to seek re-election in 2016.
"I met with one of the doctors yesterday and he felt extremely confident that I would be fine," Reid, whose right eye was patched up, told reporters in his Capitol Hill office.
Full Vision
Reid's office announced yesterday that he would undergo surgery Jan. 26 at George Washington University Hospital to try to restore full vision to his right eye.
"They're confident that I'll be really quite good after that," Reid said.
The Democratic leader said his accident wouldn't alter his plans to seek a sixth term next year.
"At this stage, I am fully intending to run," he said, adding that his Nevada campaign operation "hasn't lost a step."
As of now, Reid, 75, can see only light out of his right eye, said a Senate Democratic leadership aide who asked for anonymity to provide details that haven't been made public. Reid said Thursday his vision in his left eye is 20/20.
Reid said he's resumed a modified exercise routine that includes walking for as long as an hour.
This is one of several hospital visits for Reid in the past 10 years. He suffered a mild stroke in August 2005 while in his hometown of Searchlight, Nevada.
Also, Reid was taken to a hospital in October 2012 with minor injuries when his motorcade was involved in an accident in Las Vegas. In May 2011, Reid fell while running in Washington and dislocated his right shoulder
Senator Richard Durbin of Illinois, the No. 2 Democrat in the chamber, has filled in for Reid on the Senate floor, while Reid has worked remotely to aid his recovery.
While recovering, Reid said he has spent time listening to audio books because his doctors have advised him against reading. He said he's met with staff.
"I've been heavily involved in everything that's gone on on the floor," he said. "There've been no surprises for me."
Before it's here, it's on the Bloomberg Terminal.
LEARN MORE