That Tan Suit Just Won't Go Away
The White House has a bit of fun with the president's State of the Union preparations.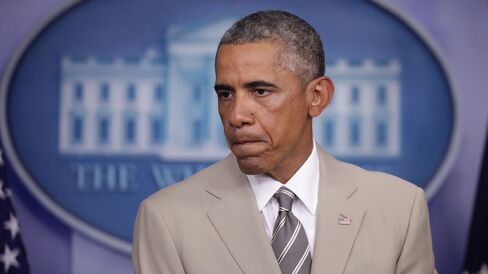 The sartorial stumble of 2014 has made a comeback.
The White House took to social media in advance of the State of the Union on Tuesday night—not for one last preview of the speech's concerns—but to provide a bit of misdirection. The official White House Twitter account tweeted out an image of a tan suit on a hanger, writing, "President Obama's suiting up for the big speech."
https://twitter.com/WhiteHouse/status/557702053930479617
What's that about? Back in August, Obama donned a summery tan suit—presumably the same one—for a news conference. It was not the most flattering, and the internet let him have it.
Republicans did too. "There's no way any of us can excuse what the president did yesterday," said Representative Peter King of New York, according to Talking Points Memo. "For him to walk out —I'm not trying to be trivial here— in a light suit, light tan suit, saying that first he wants to talk about what most Americans care about the revision of second quarter numbers on the economy. This is a week after Jim Foley was beheaded and he's trying to act like real Americans care about the economy, not about ISIS and not about terrorism."
White House Press Secretary Josh Earnest even defended the suit, saying the president stood "squarely behind" his decision to wear the suit, three days before Labor Day.
And when Obama did enter the House of Representatives to speak Tuesday night, his suit was a sober, presidential dark blue.
Before it's here, it's on the Bloomberg Terminal.
LEARN MORE