He Won Two, But Obama's Speech Shows There's Always a Next Election
His State of the Union address lays down a marker for 2016 candidates.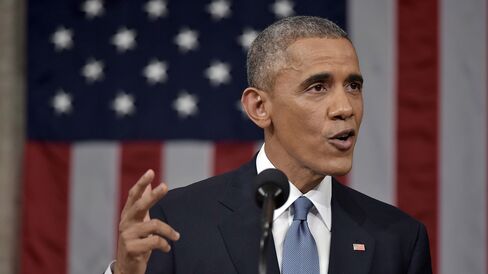 President Barack Obama said Tuesday night that he has no more races to run—"I won both of them," he boasted—but don't be fooled: He's playing in 2016.
Few—if any—of Obama's boldest proposals in Tuesday's State of the Union address stand a good chance of becoming reality. Free community college? Already rejected by Republicans. Increasing the capital gains tax? Violates a key tenet of Republican ideology. Bank fees? A plan that seemingly, only Elizabeth Warren could love.
The long-shot nature of this wish list begs the question: Why focus on priorities destined to fail? The answer may have more to do with Hillary Clinton than Barack Obama. With no more political campaigns of his own left to run, Obama is focused on the future, and he seems determined to set his party on a leftward course, with or without Clinton's consent.
Rather than use his State of the Union to push modest proposals for his final two years in office, a gleeful, confident Obama outlined an ambitious economic vision. "Will we accept an economy where only a few of us do spectacularly well?" he asked. "Or will we commit ourselves to an economy that generates rising incomes and chances for everyone who makes the effort?"
White House aides say Obama wasn't focused on 2016 when he crafted the speech. "He has two years left, two years is a long time, but he also feels an urgency to get very strong ideas out there and try and make it bipartisan," White House communications director Jennifer Palmieri said on Bloomberg Politics' "With All Due Respect" Tuesday afternoon. She has a point: While the focus in recent days has been on the president's plans to raise new taxes on the wealthy and redistribute wealth to the middle class, Obama is also playing a much quieter game of courting Republicans to cut trade and corporate tax deals opposed by his liberal base. Those initiatives may also shape 2016 by taking off the table a Republican argument that Democratic administrations will stall pro-business policies.
Still, Obama's larger economic vision echoed that that of a prominent Democrat—just not the one leading the primary field. "Senator Warren has very much driven this conversation for the past two years," said Ilya Sheyman, political director of Moveon.org Political Action. "This speaks to the growing influence of progressives in the party."
The agenda, which Obama dubbed "middle-class economics," encompasses a sweeping set of proposals including new tax breaks for families, universal preschool, increasing the minimum wage, lowering mortgage premiums, and ensuring paid sick days and family leave for workers. "The idea that this country does best when everyone gets their fair shot, everyone does their fair share, everyone plays by the same set of rules," he said. "We don't just want everyone to share in America's success—we want everyone to contribute to our success."
Many of these initiatives have long been on the wish lists of the Democratic progressive wing, and Warren praised the president's speech:
https://twitter.com/SenWarren/status/557738016480194561
But Clinton, with her Wall Street donors and her husband's embrace of Rubinomics, is more closely tied to the party's pro-business faction. By choosing to make this prime-time moment about inequality, Obama boxes Clinton into making a choice between the two. Though she responded swiftly on Twitter, she almost certainly will be asked for further opinion on his proposals and, even if she's not officially a candidate, her answers will be viewed in the context of a expected presidential bid.
https://twitter.com/HillaryClinton/status/557739125886169088
Progressive activists have spent months pushing Warren to run, despite her repeated insistence that she has no intention of doing so. "Some of the jockeying now is trying to strategically make sure Hillary understands that she can't be an economic moderate without generating pushback," said Andy Stern, the former head of the Service Employees International Union, told Bloomberg Politics last month.
Obama's address gives a major boost to their efforts to drive the 2016 debate leftward. Already, Clinton has attempted to align herself with middle class interests. Last week, she tweeted her way into a congressional dispute over Republican efforts to roll back financial regulations, an unusual step for a politician who generally shies away from wading into active policy debates.
https://twitter.com/HillaryClinton/status/556163273738166272
Republicans argue that Obama's economic policies will only hurt Clinton. They say the results of the 2014 midterm elections, in which Republicans won back the Senate and expanded on their majority in the House, repudiated those policies. "It puts her in a very difficult position," Republican pollster David Winston said of Hillary Clinton. "The public has said in exit polls they don't agree with that argument. And she's supposed to carry that ball?"
Mitt Romney, considering a third presidential bid, accused the president of being "more intent on winning elections than on winning progress" in a Facebook post:
https://www.facebook.com/mittromney/posts/10152585969521121
But Republicans, too, have been putting economic mobility issues at the center of their political messages. "Millions of our fellow citizens across the broad middle class feel as if the American Dream is now out of their reach," wrote former Florida Governor Jeb Bush in the missions statement of his new political action committee. Those kinds of sentiments on issues like wage stagnation and poverty have been echoed by other potential Republican presidential candidates. Romney has cast himself as a champion of the country's poorest.
Those Republicans might be the president's true target. The White House knows that if there's been one constant in the Obama era it's this: For Republicans, siding with the president is akin to committing political suicide. But coming out against popular proposals and being seen as obstructionists might just be worse—or so Democrats hope. "The president's proposals are a win-win for the Democrats," said longtime Clinton adviser Paul Begala. "The Republicans will either pass them or, more likely, wish they had."
Before it's here, it's on the Bloomberg Terminal.
LEARN MORE