Obama Says With Economy Healed U.S. Must Address Income Gap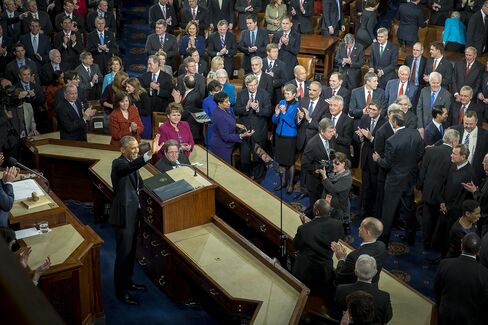 U.S. President Barack Obama declared the U.S. economy healed and said the nation now must begin work to close the gap between the well-off and the wanting.
"Tonight we turn the page," Obama said Tuesday in his sixth annual State of the Union address. "We have risen from recession freer to write our own future than any other nation on Earth."
Obama didn't give a listing of detailed policy proposals in his first speech to a Congress with both chambers controlled by Republicans. Instead, he outlined the rationale for an agenda that reflects a shift in the final two years of his presidency from spurring a tepid recovery to promoting a vision for reshaping the U.S. economy as it gains strength.
"It's now up to us to choose who we want to be over the next 15 years, and for decades to come," he said. "Will we accept an economy where only a few of us do spectacularly well? Or will we commit ourselves to an economy that generates rising incomes and chances for everyone who makes the effort?"
This year's State of Union address was one of Obama's final chances to make full use of the presidential bully pulpit to set the terms for the national debate before attention turns to the 2016 presidential election. It offered Obama a chance to reach beyond his presidency to shape campaign themes and possibly the governing agenda of a Democratic successor.
Taking Initiative
Even with his party's losses in the congressional elections last November, Obama has maintained the initiative on national policy with a series of executive actions including an order protecting 5 million undocumented immigrants from deportation, an end to the half-century-old Cuba embargo and a climate deal with China.
While giving a nod to possible areas of compromise such as trade deals, the president made no effort to temper his aspirations to the political realities of Republican control of Congress. Nor did he signal any attempt to pull back from a collision course with Republican lawmakers on several issues, repeating his threats to veto any attempt to gut his signature health-care law or unravel Dodd-Frank financial regulations.
"The verdict is clear. Middle-class economics works," he said. "We can't put the security of families at risk by taking away their health insurance, or unraveling the new rules on Wall Street, or refighting past battles on immigration when we've got a system to fix."
Obama Agenda
The headline elements of Obama's proposals, such as free access to community college, higher taxes for the wealthiest Americans to fund tax credits for middle-income families and requiring employers to provide paid sick leave, hold little appeal for Republicans.
Obama delivered the speech amid signs that the strengthening recovery is giving him a boost with voters. An ABC News/Washington Post poll taken Jan 12-15 showed him at 50 percent approval, up from 41 percent a month earlier, though other polls haven't shown as great a surge.
The economy's performance in the past two quarters -- an average of 4.8 percent growth -- was the strongest in a decade. Private-sector employers added an average of 280,000 in each of the past three months, roughly double the monthly rate since the 2009 end of the recession. Consumer confidence in January reached an 11-year high.
Dropping Incomes
Yet median household income fell 3.9 percent to $51,939 in 2013 compared with 2009 when Obama took office, U.S. Census Bureau data show. The poorest fifth fared even worse, with incomes dropping 5.9 percent to $20,900.
In their response following Obama's speech, Republicans will counter that government programs -- especially Obama's health initiative -- aren't the best way to lift the middle class.
"We see too many moms and dads put their own dreams on hold while growing more fearful about the kind of future they'll be able to leave to their children," Senator Joni Ernst, an Iowa Republican, will say in her response, according to excerpts House Republicans released. "Americans have been hurting, but when we demanded solutions, too often Washington responded with the same stale mindset that led to failed policies like Obamacare."
Keystone Pipeline
Obama made only a glancing mention of one Republican priority and a source of friction between the White House and Congress, building the TransCanada Corp. Keystone XL pipeline. Obama has said he would veto legislation that would force approval of the $8 billion pipeline to carry oil from Alberta, Canada, through the U.S., bypassing an administration review.
The president indirectly referred to the project when he talked about the need to create jobs by improving U.S. infrastructure, saying, "Let's set our sights higher than a single oil pipeline."
As he has done throughout his presidency, Obama sought to engage private industry in advancing economic priorities. He mentioned companies including CVS Health Corp. and United Parcel Service Inc., lauding them for paying for education benefits, and Tesla Motors Inc. and Google Inc. for creating jobs of the future.
CVS Chief Executive Officer Larry Merlo was among the guests invited to join first lady Michelle Obama to view the speech at the U.S. Capitol.
Outlining Agenda
The administration began releasing highlights of Obama's agenda earlier this month. He previewed the community college tuition assistance proposal with a Jan. 8 Facebook video announcement and a visit to Tennessee the next day. Over the next two days after the speech, Obama will travel to Boise, Idaho, and Lawrence, Kansas, to talk about other State of the Union priorities.
Over the weekend, the White House announced the president's proposal to increase the top tax rate on capital gains and dividends to 28 percent from 23.8 percent and impose capital-gains taxes on asset transfers to heirs at death.
Obama is also renewing and expanding an earlier proposal for a fee on the liabilities of about 100 financial institutions with assets exceeding $50 billion.
The revenue raised -- $320 billion over 10 years -- would be used to expand tax credits for higher education and child care and create a new break for two-earner couples.
Islamic State
Obama's address also touched on the battle against Islamic State and other extremist groups and securing the nation's computer networks against cyber-attacks.
The White House sees cybersecurity legislation as an opportunity for bipartisan agreement with Republican lawmakers. In the wake of hacking attacks on companies including Sony Corp., Obama last week said the U.S. is stepping up its international cooperation on cyber-crime.
"No foreign nation, no hacker, should be able to shut down our networks, steal our trade secrets, or invade the privacy of American families, especially our kids," Obama said while asking Congress to pass a cybersecurity bill.
Obama has proposed a bill that would give companies legal protections for sharing information about hacking threats with each other and the government. He's also seeking legislation that would require companies that have consumer data hacked to notify customers who are at risk.
Hunting Terrorists
Obama's foreign policy priorities have been overshadowed the past year by threats from Islamic State extremists as they've seized territory in Iraq and Syria. More recently, Europe has been rocked by deadly attacks carried out by extremists in Paris and the hunt for accomplices from Belgium to Greece.
"We will continue to hunt down terrorists and dismantle their networks, and we reserve the right to act unilaterally, as we've done relentlessly since I took office to take out terrorists who pose a direct threat to us and our allies," he said.
Obama declared the U.S. and its allies have made progress against Islamic State while saying there's no quick solution.
Last week, in a meeting at the White House with congressional leaders, Obama asked them for a new authorization to use military force in the Middle East and repeated that request tonight.
"This effort will take time," he said. "It will require focus. But we will succeed. And tonight, I call on this Congress to show the world that we are united in this mission by passing a resolution to authorize the use of force against" Islamic State.
The scope of an authorization resolution has divided lawmakers, and the administration hasn't yet released a draft version it favors. Last year, the then-Democratic-controlled Senate Foreign Relations Committee voted in favor of a resolution that prohibited the use ground troops and would have expired after three years, provisions that the administration and some Republicans criticized as too restrictive.
Before it's here, it's on the Bloomberg Terminal.
LEARN MORE