Which 2016 Candidates Would Be Absolved by Legal Gay Marriage?
If the courts rule in favor of gay marriage, it will end one of the most complicated policy debates for 2016 presidential candidates. Here's what they believe now.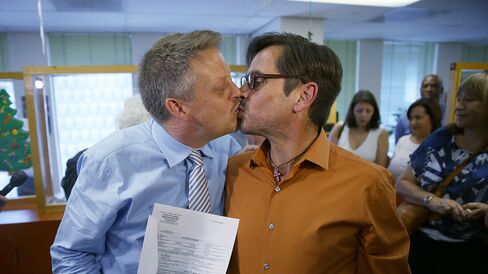 The Supreme Court will hear arguments on four gay marriage cases this Spring, meaning the great civil rights issue of our time could be resolved by June. Because the court will also decide if marriages should be recognized across state lines, a ruling in favor of gay marriage would change the lives of LGBT couples across the country.
On a lesser note, politically it means that several potential 2016 presidential candidates might not have to defend their views on same-sex marriage—and their continued support of states rights—to a country that supports gay marriage.
Still, it's worth keeping track of what the contenders think now, before the Supreme Court potentially settles things once and for all.
Jeb Bush
In a 1994 op-ed for the Miami Herald Bush wrote "[should] sodomy be elevated to the same constitutional status as race and religion? My answer is No," according to BuzzFeed. When the site followed up with Bush, a spokesperson said that this didn't reflect his current views. When courts started allowing gay marriages in Florida this year, he told the Miami Herald that "It ought be a local decision. I mean, a state decision ... The state decided. The people of the state decided. But it's been overturned by the courts, I guess." In a later statement he softened his response, and said Floridians should respect the rule of law and the "good people on all sides of the debate."
Rick Perry
In June 2014, the Texas Republican party adopted a party platform endorsing gay conversion therapy. During an event in San Francisco, Texas Governor Rick Perry was asked if he believes homosexuality is a disorder. Perry said that he views homosexuality the same way he views alcoholism, the San Francisco Chronicle reported.
"Whether or not you feel compelled to follow a particular lifestyle or not, you have the ability to decide not to do that," Perry said. "I may have the genetic coding that I'm inclined to be an alcoholic, but I have the desire not to do that, and I look at the homosexual issue the same way."
In a follow-up interview, Perry said that he doesn't condone or condemn that "lifestyle," and implied that people could move to states that allow gay marriage. "And the fact is that people will decide where they want to live if Washington will respect the Tenth Amendment," he told CNBC's "The Squawk Box," referring to the amendment that protects states' rights.
Scott Walker
In October 2014 Walker also backed down on his fight to keep the state's same-sex marriage ban. "For us, it's over in Wisconsin," Walker said, according to the Milwaukee Sentinel-Journal. "Others will have to talk about the federal level."
Rick Santorum
Santorum, who ran for president in 2012 as a staunch Christian conservative, is definitely still opposed to gay marriage.
Mike Huckabee
Huckabee promised to leave the Republican party if it stopped fighting against marriage equality.
Marco Rubio
Rubio supports traditional marriage and states's rights. Here's what he told Politico in early January 2015, after Florida began issuing same-sex marriage licenses:
"While I believe that marriage should be between one man and one woman, while people want to change that law — and a lot of people apparently do – there is a way to do that. You go through the legislature, or you go on on the ballot, but I don't agree the courts have the power to do this."
Mitt Romney
"My view is that marriage itself is between a man and a woman," Romney said during the 2012 presidential election, after President Obama changed his support, the Associated Press reported. His view hasn't changed.
Chris Christie
As Politico noted in November 2013, Christie vetoed a bill supporting same-sex marriage, but also dropped his legal battle against gay marriage that year, instead of going down with the traditional marriage ship. In October 2014, after the Supreme Court allowed gay marriages to continue in several states, he said that he does not "believe that this is something that should be imposed from the United States Supreme Court down to the states," according to NJ Advance Media.
Rand Paul
Paul supports traditional marriage, but acknowledged that people change. Here's how he answered the question on Oct. 3, 2014, according to CNN:
"Society's changing," he said. "I mean, people change their minds all the time on this issue, and even within the Republican Party, there are people whose child turns out to be gay and they're like, oh well maybe I want to rethink this issue. So it's been rethought. The President's rethought the issue. So I mean, a lot of people have rethought the issue."

It sounded, for a moment, as if Paul was hinting that he, too, could change his thinking about marriage.

"The bottom line is, I'm old fashioned, I'm a traditionalist," he said. "I believe in old-fashioned traditional marriage. But, I don't really think the government needs to be too involved with this, and I think that the Republican Party can have people on both sides of the issue."
Ted Cruz
After the Supreme Court allowed marriages in some states to continue, Cruz issued a statement calling the "judicial activism" of the courts "tragic and indefensible." In the statement he argued that the country should "remain faithful to our moral heritage," and promised to introduce "a constitutional amendment to prevent the federal government or the courts from attacking or striking down state marriage laws."
Before it's here, it's on the Bloomberg Terminal.
LEARN MORE