Scott Walker Explains Why Someone Just Like Him Should be President
The Wisconsin governor, who is considering a presidential campaign, says he's a case study on how to win the White House in 2016.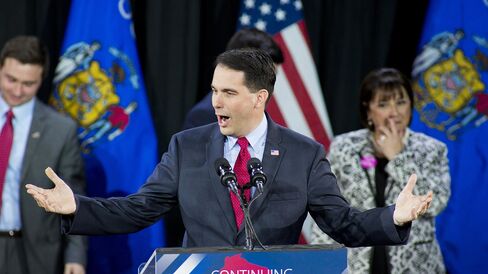 CORONADO, Calif.—Wisconsin Governor Scott Walker knows how his fellow Republicans can win the White House in 2016. They need to back a candidate who comes from outside of Washington. Someone who can relate to the average voter, who has stared down the Democratic machine, and pushed for major changes in a state.
Someone like Scott Walker.
"If we're going to be up against particularly Hillary Clinton, we need to offer a new, fresh approach," he said Thursday during his speech to the Republican National Committee, a day before Mitt Romney—who is weighing a third presidential campaign—addresses the group.
Walker, 47, has said he's considering a presidential campaign, and has recently hired former RNC political director Rick Wiley to advise him. While his 35-minute speech lacked soaring rhetoric, he made up for it by delivering a rational argument for why he'd make a strong national candidate. In addition to being a "fresh face" on the national political scene (which is also a good way to explain his poor national poll ratings), Walker pointed to his electoral history as Milwaukee's county executive and three successful governor campaigns in four years, while pushing anti-union policies that drew the ire of labor groups nationwide.
"We were able to win because we had a proven record," Walker said. "We can carry that same sort of message when it comes to 2016 as well."
Coloring his speech with anecdotes about shopping from the discount rack at Kohl's and references to his beloved Green Bay Packers, Walker said it was "fundamentally unacceptable" that his potential future grandchildren may grow up in America that "is not as great as the country we grew up in."
That's the same scenario—and same language—Walker said earlier in his speech that had spurred him to run for governor in 2010. "We decided to make that decision to get in the race because we were afraid as parents that our children were going to grow up in a state that wasn't as great as the Wisconsin we grew up in," Walker said. "I don't know about you, but as a parent I said that's fundamentally unacceptable."
Walker also took aim at former Secretary of State Hillary Clinton, who is considering her own campaign for the Democratic nomination, saying she was "a big loser" in the 2014 elections that showed America's distrust of Washington. "You look at everything that people dislike about Washington, she embodies it," he said.
"If we're going to be up against particularly Hillary Clinton, we've got to offer a new, fresh approach and ideally it's one that comes from the states," Walker said. "The states is where we actually get things done. That matters."
Before it's here, it's on the Bloomberg Terminal.
LEARN MORE