Chaffetz Wants to 'Get Some Things Done' on Immigration
The Utah Republican says he'll continue several of Darrell Issa's investigations on the Oversight committee.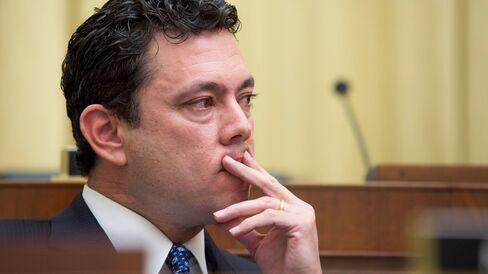 Republicans can have a "lively debate," but they'll have to get over their divisions and lead on immigration, Representative Jason Chaffetz said Friday.
"We were elected to put on our big boy pants and actually get some things done," the Utah Republican told Bloomberg's Peter Cook.
Speaking in Hershey, Pa., where congressional Republicans are wrapping up a retreat to set an agenda and address internal divisions, Chaffetz said that immigration is a source of debate in the caucus but that it's time for Congress to act. "We have the obligation to pass meaningful immigration reform," Chaffetz said. "Legal immigration in this country is broken."
Chaffetz said Republicans can get together issues like border security, and he expressed support for a bill the House passed which would roll back President Barack Obama's executive actions halting some kinds of deportations. "I don't believe in granting amnesty," he said.
He did not say how else they might fix the system.
Chaffetz, who is the new chairman of the House Oversight Committee, also drew a distinction between himself fellow Republican Representative Darrell Issa, who formerly ran the committee and famously used it to confront the White House on issues such as Benghazi. "I'm going to approach the media a little differently," Chaffetz said.
He was adamant that the committee would still investigate several issues that Issa had pursued, including the IRS's treatment of conservative political groups. "It's a target-rich environment," he said.
Chaffetz, a longtime supporter of Mitt Romney, waved off doubts from many Republicans about a possible third Romney candidacy in 2016. Chaffetz said Romney's fundraising base would make him the best person to run against Hillary Clinton, but he warned that Romney can't just rest on "buyer's remorse"–the hope that the public feels regret for choosing Obama over him in 2012.
"Mitt Romney's going to need to get out there and explain what he would do differently," Chaffetz said.
Before it's here, it's on the Bloomberg Terminal.
LEARN MORE