This Time Around, Things Will Be Different For Mitt Romney, Again
With Mitt, the hope for change springs eternal.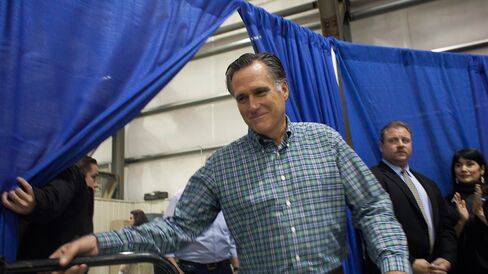 An important selling point of Mitt Romney's potential 2016 candidacy is that it will be new and improved. He's learned his lessons. Things will be different.
"He really has to show people that he'd do it differently, rather than just say he'd do it differently," a former Romney adviser told Politico. "He needs to assure folks he'd take a much more direct approach to laying out the vision for his campaign versus having those decisions driven by a bunch of warring consultants."
But one thing that will not be different is that, in 2012, he had to make the exact same sell: that he would run a different campaign than he had in 2008.
Here are three areas in which Romney promised to remake himself the last time around, ranked from least to most successful:
His stiff persona
Long before the release of the humanizing Netflix documentary, Mitt, Romney was trying to convince voters that he was not the buttoned-up, over-consulted automaton they believed him to be in 2008. The Associated Press in March 2012 wrote that he was working to present the "likable, personable, even fun Romney underneath the persistent image of a buttoned-down, multi-millionaire businessman that Republican voters got to know during his failed bid for the nomination in 2008."
"I can do you a favor with this," Romney joked when Jay Leno asked him on The Tonight Show about a running mate choice. "I'll choose David Letterman."
His attitude on religion
Romney's Mormonism was an uncomfortable topic in the 2008 election, especially among evangelicals, though he did try to address it with a 2007 speech. In the 2012 cycle, he tried to make people more at ease, speaking openly and with pride about his work in the church. He tried to demonstrate how his faith and his marriage were a constant in his life, drawing a contrast to Newt Gingrich, for whom both were in some degree of flux, the Associated Press reported:
During a stop in Hudson, N.H., on Sunday, he talked about how Mormon missionaries get paid very little and live among local hosts as young men and women in the church. On Monday, he told workers at a New Hampshire lumber mill how he became a pastor even though he was an English major looking to go to law school and business school.

'Well, in my church that sort of rotates around," he said. "They ask different people to do it, and you take the assignment for a while.'
His foreign policy game
Between 2008 and 2012, Romney wrote a book. In fact, he first commissioned a ghost writer, but took over personally after receiving the first chapter, Time reported. No Apology: The Case for American Greatness demonstrated that he had bolstered his foreign policy knowledge, an area in which he'd been weak as compared to Senator John McCain, the man who defeated him in the 2008 Republican primary.
Romney traveled to Afghanistan to meet President Hamid Karzai and train Afghans on such topics as "leadership, public service, economic opportunity and democratic participation," Romney's office told Time.
Though this move did not win him the 2012 election, foreign policy could be one of his strongest pieces of ammunition in 2016, since his campaign statements in 2012 have provided potent lines of attack on subjects like Russia's rise and the destabilization of Iraq.
Before it's here, it's on the Bloomberg Terminal.
LEARN MORE