Rick Perry Is a Dues-Paying, Card-Carrying Union Member
Notwithstanding his policies as governor of Texas.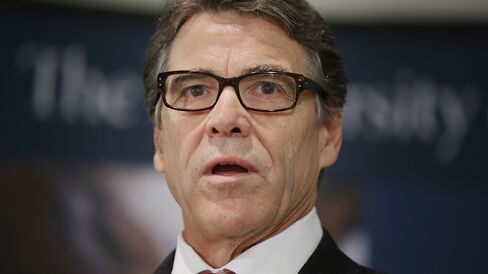 On Jan. 9, at an event hosted by the Texas Public Policy Foundation—not exactly a liberal stalwart—Texas Governor Rick Perry, appearing with former House Speaker Newt Gingrich, made an unusual declaration. "I belong to the AFL-CIO," he said.
According to PolitiFact Texas, a fact-checking partnership project between the Austin American-Statesman and the Tampa Bay Times's PolitiFact.com, Perry was making a suggestion that Republicans try to seduce voters with traditional liberal records, like union members. Speaking to former Senator Phil Gramm, a Republican of Texas and a mentor of the governor's, Perry said, "Not only did I used to be a Democrat, Senator, I belong to the AFL-CIO. Got the card in my pocket, and they probably hate it that I pay my dues every quarter."
To prove it, Perry spokesperson Felix Browne sent reporter W. Gardner Selby a photo of Perry's membership card in the Screen Actor's Guild-American Federation of Television and Radio Artists, which he reportedly joined after appearing in "Man of the House" with Tommy Lee Jones. According to the Dallas Morning News, "In the movie, he played the governor of Texas."
https://twitter.com/PolitiFactTexas/status/555142839114289153/photo/1
The spokesman for the Texas AFL-CIO, Ed Sills, confirmed that Perry is a member in good standing. "The labor movement wants to be a big tent," he said, "and we do proudly represent a minority of Republican members, many of them of the rock-ribbed, partisan variety. The AFL-CIO does not have a loyalty test."
But he did note that, union man or not, Perry was no supporter of AFL-CIO policies. In Sills's words, "He has opposed a minimum-wage increase, has rejected on ideological grounds tens of billions of dollars in federal funds that would expand Medicaid coverage, has chipped away at the ability of laid-off workers to receive Unemployment Insurance benefits, and has presided over a public school system that a state judge found to be unconstitutionally inadequate."
Before it's here, it's on the Bloomberg Terminal.
LEARN MORE