Political Donors Raise Glasses in Washington, and Check Up on Investments
Sheldon Adelson and other donors roamed the U.S. Capitol as the Congress they funded got back to work.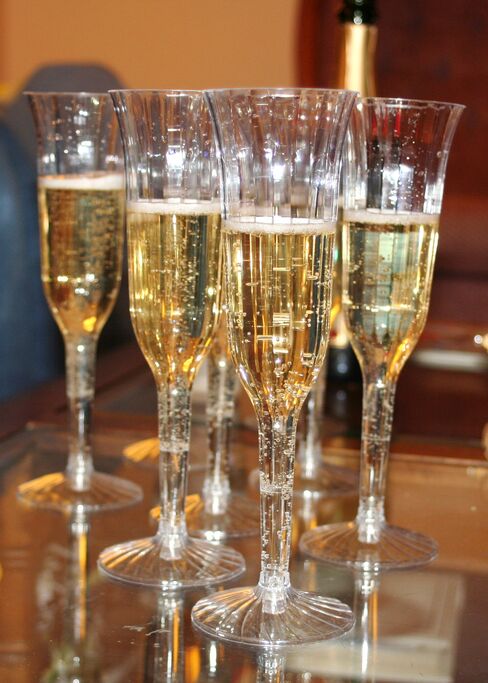 Political donors—the big ones and the smaller ones—lined up to get into Congressional office buildings in Washington on Tuesday. They roamed the hallways. They toasted with champagne as the Congress they helped elect started its first official day of work.
"This is a town where relationships matter," said Vidor Friedman, an emergency room physician who traveled from Orlando, Florida to attend Opening Day receptions hosted by several House members he supported financially. A bipartisan small donor who gives mostly to doctor-candidates, he's in town for the same reason he wrote checks: A desire to shape the conversation and put some priorities on the table.
In a midterm election that cost $3.7 billion and in which members of Congress relied more heavily than ever on support from outside groups and super-PACs to get elected, the day's events were another festive "Thank You" for their most dedicated supporters. But since this is Washington there's always an agenda: The donors want to keep a close eye on the politicians they backed and some even polished their idea pitches. "My personal issue is getting end-of-life care back in the conversation," said Friedman as he cleared security to enter the Longworth House Office Building. "We have to do it in a rational way," he said. He ticked off other issues, including the cost of malpractice insurance and insufficient Medicare reimbursements, that he plans to bring up with the freshly-elected members he backs.
The biggest donor on display was casino magnate Sheldon Adelson, who put at least $10 million into groups trying to get Republicans elected. He was spotted piloting his motorized scooter into an elevator on the Senate side of the Capitol just as new senators were being sworn into office. One Bloomberg News reporter asked him where he planned to watch the ceremonies. "In my seat," Adelson quipped in reply. After lunch, he was spied riding through the tunnels at the Rayburn House Office building with a coterie of aides and security.
Adelson, who is mulling opening his own super-PAC in the coming months so he can control how the millions he's investing in politics are spent, continued holding court into the evening. The Republican Jewish Coalition, where he's a top funder, hosted a cocktail reception at the Capital Grille to fete New York Representative Lee Zeldin, the chamber's lone Republican Jewish member. Former Vice President Dick Cheney and Senator Ted Cruz of Texas also were expected to drop by. About a dozen protesters from Code Pink, a pro-peace group, heckled attendees at they entered the restaurant. "There are a bunch of war criminals in there," yelled one as Republican Senator Lindsey Graham of South Carolina walked up to the eatery with his family. Later the demonstrators yelled: "We want to see Sheldon" while an activist dressed as Adelson tried to give a fake bag of money to the security detail.
Many big-money players, including American Crossroads super-PAC President Steven Law, also will make appearances at newly re-elected House Speaker John Boehner's celebration at the Library of Congress. Emily's List, which raised more than $50 million for Democratic female candidates who are pro-abortion rights in the 2014 election cycle, planned their party at the Liaison Capital Hill near Washington's Union Station. The group's president—and possible Hillary Clinton campaign manager—Stephanie Schriock was scheduled to attend, according to the invite.
The Senate is where most of the action was during the last election, and members of the new Republican majority were giddy. Senator Thom Tillis supporters who'd made the trek from North Carolina nibbled palm-sized roast beef sandwiches and cheese at a viewing party in the Dirksen Senate Office Building. The red-tie wearing new member swirled through to pose for photos and shake hands as the event was winding down late in the afternoon. Tuesday night, his supporters relocated to the Business Roundtable's Capitol-view building for another party. A consulting partner at IBM, Tillis attracted campaign assistance from many in the business community.
Presence of the members wasn't required for good cheer. On the fourth floor of the Longworth House Office building supporters of freshman Massachusetts Democrat Seth Moulton gathered to celebrate—including Kim Jacobs, who spent the day in Washington while her husband Charlie was home being promoted to be the CEO of the Boston Bruins ice hockey team that his father owns. Putting money behind Moulton in a Congress that's run by seniority and (now) Republicans seemed to be a bit of a curiosity. "As an investor, you don't want to back a company that's going south," admitted Peter White, a Moulton donor who came from Boston to see him sworn into office. Moulton's money crowd said they think the new congressman can still have a loud voice. "Influence can be exercised in different ways," said Tom Beaton, a Boston consultant who was one of Moulton's early financial backers. "In committee votes or in the district. In doing the right thing."
Julie Bykowicz and Rich Rubin contributed to this report.
CORRECTION: An earlier version of this story stated that Emily's List had raised $400 million for Democratic female candidates in 2014. It has raised that amount since its inception.
Before it's here, it's on the Bloomberg Terminal.
LEARN MORE