Witch Hunt or Real Violation? FEC Sues Christine O'Donnell
The former Republican Senate candidate calls the action "intimidation and bullying."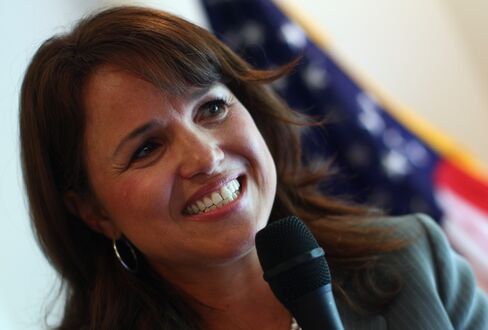 Christine O'Donnell says she's no witch when it comes to the campaign finance violations alleged in a newly filed Federal Election Commission lawsuit.
The complaint, filed Monday, accuses the unsuccessful Republican Senate candidate from Delaware of using at least $20,000 in campaign donations for rent and utility payments at a townhouse where she lived and worked during her 2010 campaign. Also named in the civil complaint are her campaign committee and Matt Moran, a campaign treasurer.
"It's intimidation and bullying," O'Donnell, a Tea Party favorite, said in an interview Tuesday.
Besides denying the allegations, O'Donnell said she plans to try to use her name recognition and Tea Party ties to raise money for a legal defense fund and to hire investigators to look into the operations of the FEC and other federal agencies.
"It doesn't matter if you're liberal, conservative, Republican or Democrat, or even a member of the media—abuse of government power affects us all," O'Donnell wrote in a Facebook post. "It's time to fight back, and that is what I am doing."
In taking the relatively rare action of filing suit against a candidate, the FEC said O'Donnell violated the rules.
"O'Donnell allegedly reimbursed Friends of Christine O'Donnell for a small portion of the costs for the townhouse, but the use of campaign funds for rent or utility payments for any part of a federal candidate's personal residence constitutes unlawful personal use," the commission said in its complaint.
Even before the lawsuit, O'Donnell's 2010 campaign was a flashpoint for Republican establishment figures who argued that the party needed better candidate recruitment and vetting. After scoring an upset in the Republican primary at a time of peak Tea Party clout, O'Donnell's general election campaign was plagued by revelations about her past, including a thin employment record, campaign finance questions and past statements about opposing masturbation and dabbling in witchcraft as a teenager.
In one famous campaign spot, she assured voters, "I am not a witch."
The FEC lawsuit comes more than four years after the left-leaning watchdog group Citizens for Responsibility and Ethics in Washington filed a complaint with the federal agency alleging O'Donnell had converted campaign funds to personal use.
"Contrary to all of Christine O'Donnell's whining, she is not and never was an innocent victim of partisan attacks," Melanie Sloan, CREW's executive director, said in a statement. "Rather, she was an otherwise jobless scam artist who fleeced donors to support herself."
Sloan called O'Donnell's actions egregious and said "this was no more of a witch hunt than O'Donnell was a witch."
The CREW complaint, O'Donnell said, was filed during the 2010 campaign and was "obviously politically motivated." She said she has rejected FEC offers to settle the matter with no penalties because it would mean that she would have to admit being guilty of something she didn't do.
O'Donnell said she has no plans to run for any office soon. "My qualifications will become apparent in this new effort," she said, adding that she will prove that she can fight federal agencies with "a slingshot and a stone."
Before it's here, it's on the Bloomberg Terminal.
LEARN MORE