Chris Christie's Hug That Launched A Thousand Vines
His embrace with Dallas Cowboys owner Jerry Jones generates almost as much buzz as the game itself.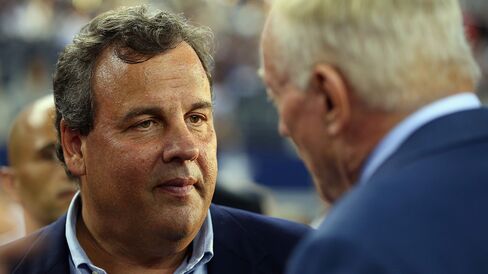 Images of a gleeful hug between New Jersey Governor Chris Christie, Dallas Cowboys owner Jerry Jones, and Jones' son spread like wildfire Sunday night after the Cowboys defeated the Detroit Lions by four points in a come-from-behind playoff victory.
Christie watched from the owner's suite, and an awkward high five followed by that victory hug generated almost as much buzz as the game itself.
As the 2016 presidential race nears, more attention has focused on Christie's football allegiance. The potential White House contender's loyalty to the team is longstanding, despite the team's traditional division rivalries with both the New York Giants and the Philadelphia Eagles.
At a high-school football practice in Camden—just across the river from Philadelphia—in October, the Republican insulted the Eagles' fight song, saying, "I'd rather have my teeth drilled than listen to that awful song, 'Fly, Eagles Fly.'"
https://twitter.com/jonmachota/status/551955568882360323
"Believe me, it doesn't get me anything political around here because the Giants fans hate me, the Eagles fans hate me, it doesn't matter," Christie said in 2010. "But you grow up rooting for a team. That's just the way it works."
His brother, Todd Christie, confronted critics of the governor a bit more directly on Sunday night.
"To all of those non Cowboy fans who have their panties in a ringer because the Governor of NJ is a Cowboys fan—-GET A LIFE !!!" he wrote on Facebook, according to Politico.
The Cowboys will advance to face the Green Bay Packers—who count Wisconsin Governor Scott Walker, a potential Christie rival in 2016—in the next round.
Before it's here, it's on the Bloomberg Terminal.
LEARN MORE