McConnell Outlines Coming Republican Senate Agenda
The incoming Senate majority leader says Keystone XL, Obamacare, and regulatory relief will be top priorities of the new Congress.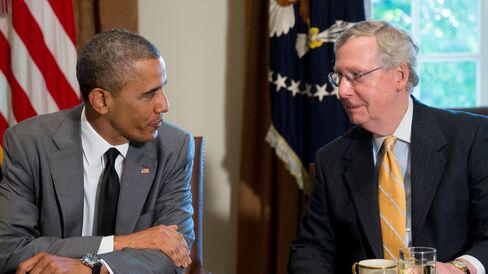 Incoming Senator Majority Leader Mitch McConnell said in an interview airing Sunday that the divided-government mandate voters issued in November means Americans "want things done in the political center, things that both sides can agree on."
"When the American people elect divided government, they're not saying they don't want anything done," McConnell, a Kentucky Republican, said on CNN.
What the two sides can agree on remains to be seen. The Republican-led Senate already is teeing up an early challenge to President Barack Obama on the Keystone XL oil pipeline, which the administration has delayed repeatedly. A bill that would approve construction of the pipeline should easily pass a Republican-led Senate with some Democratic votes, though it probably will fall short of the two-thirds majority that would be needed to override a likely veto. Republicans will hold 54 of the 100 Senate seats in the 114th Congress, which convenes on Tuesday.
Obama has expressed reservations about the pipeline, and Democrats have said it wouldn't be the big job-creator that the pipeline's advocates claim. Senator Charles Schumer of New York, the third-ranking Democrat in the chamber, said Sunday that Democrats would offer amendments to the Keystone measure "to make it more of a jobs bill."
"We will have enough votes to sustain a presidential veto," Schumer said on CBS's "Face the Nation."
Approving the Keystone pipeline will be part of a Republican agenda focused on jobs and the economy, McConnell said. Re-elected in a landslide in 2014 partly by attacking Obama's Environmental Protection Agency, McConnell said that Republicans need to do "everything we can to try to rein in the regulatory onslaught."
Repealing and replacing Obama's Affordable Care Act also is a top priority, though Republicans don't have the votes to overcome Obama's veto. They'll try to pick away at it with a piecemeal approach, including repeal of its medical device tax and so-called 40-hour rule.
"We'll be voting on things I know he's not going to like," McConnell said.
Still, McConnell said that he's open to negotiating with the administration. He noted that he worked with Vice President Joe Biden on tax-cut and budget pacts and on an agreement to avert the so-called fiscal cliff.
"I'm not opposed to negotiating with the administration," McConnell said. "In those particular instances, the president sort of picked the vice president to do it. So I don't object to negotiating with him; I've done it in the past."
Before it's here, it's on the Bloomberg Terminal.
LEARN MORE