Glimpses of Richard Branson, Warm-and-Fuzzy Management in Jeb Bush E-Mails
Messages from the former Florida governor—and possible presidential candidate—show an executive mindful that he was being watched.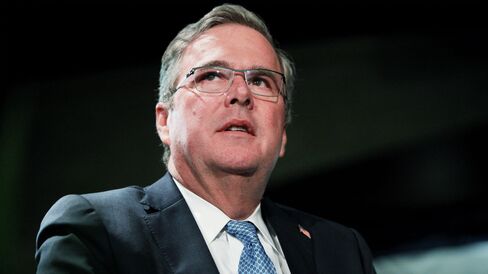 The hundreds of thousands of messages that went through Jeb Bush's e-mail account from 1999 to 2007, when he was governor of Florida, include a mind-boggling amount of spam, a heavy dose of angry missives, and some fun interactions with his staff.
It's clear that Bush was well aware that his writing could find its way into print one day—some of the e-mails include reminders to recipients about the state's open-records policy—and sure enough, they have. The Democratic opposition-research group American Bridge released a trove this week as Bush mulls a run for the Republican presidential nomination in 2016. (Bush plans to release his own batch early next year; without confirming or denying the authenticity of the e-mails in the Democratic trove specifically, Bush spokeswoman Kristy Campbell said in an e-mail that "generally, we would dispute the veracity of anything American Bridge does or says."
The e-mails show Bush appearing to become more spare in his written communications over time. Early messages include motivational advice to his staff (distribute "warm and fuzzies"), while later ones include more short responses like "ok."
His sign-offs changed, too. Sometimes he went with "onward"; he also used "peace," "Jeb" and the full name, "Jeb Bush."
Here are some behind-the-scenes moments seen in an early reading of the e-mails posted by the Democratic group:
A failed bromance with Sir Richard Branson?
Bush's staff appeared eager to set him up with Sir Richard Branson, the founder of Virgin Group who currently ranks 241st on the Bloomberg Billionaires Index. "He's a really good guy," wrote Bush staffer Pam Dana in a February 2006 e-mail. "He is really enthralled with KSC [Kennedy Space Center], the space program, mystique, the genuine hospitality, etc." Dana suggested a meeting, or at least a call, with the thought that Florida might win some of Branson's vast empire.
Bush seemed ready to talk on the phone with the British billionaire and even got a five-point briefing on what to say, including "congratulate him on his 30th wedding anniversary." But the e-mails suggest the phone call never happened. A reporter got wind of a rumored Branson-Bush pow-wow and wrote to Bush: "I interviewed Sir. Richard Branson and he mentioned he had talked to you and he is interested in the Cape." Bush forwarded the reporter's e-mail to his staff with this note: "Pam, you never gave me the number for Richard Branson but he said we spoke," Bush wrote.
Affirmative action
Even in his first few days on the job, Bush was criticized for not being conservative enough. A slew of Floridians got it into their heads that the newly elected governor was refusing to meet with Ward Connerly, a California activist who was trying to push a state-wide referendum to end affirmative action. Bush responded personally to several of the writers in early 1999, saying that he disapproved of Connerly's tactics, not his ends. Bush said he was "concerned" about the "divisive nature of an initiative" which could impact "our agenda of large tax relieve and meaningful education reform."
A blow-off? Maybe not. About a year after the Connerly flap, Bush issued an executive order that prohibited using race as a criteria in state university admissions.
Eminent domain
On the touchy subject of when government can take private land, Bush offered one concerned constituent a clear answer. "I will advocate a constitutional amendment on this subject," Bush wrote on Dec. 10, 2005 (at 1:24 a.m.). "I cannot think of any reason to have a taking for private gain."
Setting up the office
In the early days, Bush responded to much of his own external e-mail—sometimes after 10 p.m. On the night of Jan. 29, 1999, he penned an urgent e-mail to his top aides (previously reported by the Washington Post): "Right now I answer them since I have no trust that citizens services has the political or social sensitivities to do so," Bush wrote. "I'm answering them on my own. Kind of scary and I am very tired."
A staffer answered a few hours later, at 1:40 a.m. Saturday. "This problem will be resolved Monday," promised David Rancourt.
Bush's response—on Sunday morning—made it sound like the governor had gotten a little rest. He started riffing on how to motivate staff. "One of the way to make service the code word is reward it," Bush offered. "To celebrate it when it happens." He added that the top staff members "need to be part of the dispensing of warm and fuzzies."
Before it's here, it's on the Bloomberg Terminal.
LEARN MORE