The RNC Takes a Victory Lap After the Release of The Interview
Republicans join the president in celebrating Seth Rogen's freedom.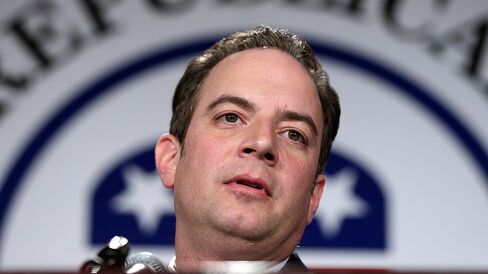 Reince Priebus made a promise. On December 20, the day after President Obama chastened Sony and movie theater chains for pulling The Interview out of circulation, Priebus told the film industry that he could make a hit for them—if they only believed enough in freedom.
"I want to speak clearly on behalf of the Republican Party: I urge you to show the movie," Priebus wrote to ten theater chain CEOs, according to a letter obtained by CNN's Brian Stelter. "As a sign of my commitment, if you agree to show this movie, I will send a note to the Republican Party's millions of donors and supporters urging them to buy a ticket—not to support one movie or Hollywood, but to show North Korea we cannot be bullied into giving up our freedom."
The bandwagon that the president had pushed onto the highway only took on weight and speed. Mitt Romney had tweeted his support of The Interview, the Seth Rogen/Evan Goldberg comedy that hackers had demanded studios never release. Louisiana Senator David Vitter upped the ante, encouraging the president to screen the movie at the White House. After all, the film's co-star James Franco had been a supporter of the president, even writing a poem about meeting him after a White House Correspondents Dinner. ("He is one man and we are many, and a great servant of the people—he's a president, not a king—and doesn't need to face what King Charles once faced.")
Vitter, a Rhodes scholar, has always possessed an unusual second sense for pop culture. In 2010, he got plenty of mileage out of campaigning for New Orleans Saints fans who wanted to sell merchandise celebrating their team's Super Bowl win without being assaulted by the NFL's license regime. (This led to the unforgettable headline "U.S. Senate candidates agree on 'Who Dat' controversy.") Yesterday's reversal by Sony and today's move to release the movie on streaming services proves Obama's theory, and Vitter's theory, and Preibus's theory. A CNN poll proved it, too. Calling for the film to be released, and thereby show up a third-rate Communist power, was simply the American thing to do.
Today, Priebus made good on his promise. Sort of. He emailed the RNC's donors:
As you may have seen last week, I called on cinema executives to demonstrate courage in the face of North Korean threats and show the movie "The Interview" as originally planned.

Yesterday, Sony announced that "The Interview" will now be shown in some theaters across America starting Christmas Day.

This was the right decision. Anything else would set a horrible precedent and allow our freedom to be ceded to the whims of a totalitarian regime.

It's important that American families are given the freedom to attend the movies — or otherwise enjoy time with family and friends in any way they choose.

This holiday season, I encourage you to celebrate America's freedom with the ones you hold dear.
That was leaving donors some wiggle room to listen to Priebus, pump their fists, but spend Christmas doing something other than Interview-watching. Republicans could stand up for America while ducking the consequences if the movie wasn't, you know, very good.
Before it's here, it's on the Bloomberg Terminal.
LEARN MORE