The Man Poised to Guide Hillary Clinton's Presidential Campaign
Robby Mook, Terry McCauliffe's makeover artist, may be the one to bring discipline to the Clintons' 2016 campaign.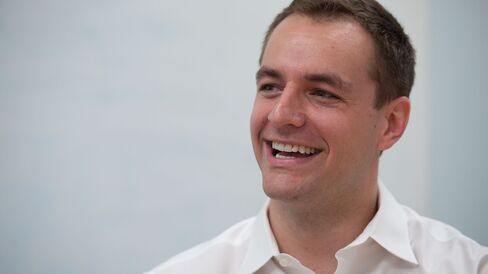 In 2009, Terry McAuliffe, the Democratic power broker and close Clinton friend, lost a three-way Democratic primary for Virginia governor; four years later, with Robby Mook aboard as his campaign manager, McAuliffe won.
It was that performance that solidified Mook's status as one of the leading candidates to help Hillary Clinton to change her own fortunes from primary loser to general election winner. Now Mook, a 35-year-old Vermont native, has emerged as a clear front-runner to manage Clinton's expected presidential campaign after Guy Cecil, the political director for her 2008 bid, acknowledged Sunday he won't have an official role this time around.
Mook already is working on special projects for Clinton, according to two longtime Democratic strategists. One said Mook was influential in shaping her role helping Democrats during the 2014 midterm elections.
Clinton advisers say Mook could serve as a bridge between Clinton's past and present, because he's close enough to Clinton to be trusted, and experienced enough in more recent campaigns to know which parts may need fixing.
"You can't have someone in such a pivotal and important position who is unknown," said Ellen Tauscher, a former congresswoman, State Department official, and Clinton ally. "For people that want to be reassured about no repeat of 2008 issues, I think that he definitely answers the mail on that, too." Tauscher said she did not know whether Mook would manage a campaign or whether Clinton would run.
McAuliffe's first campaign relied heavily on old friends as operatives and advisers, just as Clinton's had during her 2008 presidential bid. As a result, both suffered from an air of arrogance and a lack of political sophistication. For the 2013 race, McAuliffe wanted something different.
"He wanted to have a professional organization, he wanted to make sure it was based on the most recent tactics and wanted to make sure the campaign was strategic and data-focused," said Michael Halle, who managed field operations for McAuliffe.
Enter Mook, who was coming off a stint as the executive director of the Democratic Congressional Campaign Committee and had managed Clinton's primary-vote victories over Barack Obama in Nevada, Ohio, and Indiana in 2008.
He brought in talent from the data-obsessed Obama re-election campaign, including Elan Kriegel, who was the director of analytics in battleground states, and kept in touch with Obama adviser David Plouffe.
"Robby understands modern campaigns, the value of data and technology," Plouffe told Bloomberg in 2013. "He beat us three times; his footprint was on our back."
And, Plouffe added, "our sense was he did the best job of anyone over there."
Mook was also able to instill discipline in McAuliffe, a famously difficult mission. When he ran McAuliffe's operation, Mook mapped out campaign strategy on big white boards at meetings and was "absolutely anal about every meeting ending with action items," Halle said.
He also sought to understand the operation from the ground up. Every other week or so, he ordered headquarters staffers to go into the field to get a sense of what voters were telling volunteers. That's not terribly unusual in a campaign. What's less common: Mook knocked on 50 to 60 doors himself each time, Halle said.
Mook's experience with McAuliffe could prove valuable, because Clinton has struggled with discipline on the campaign trail and on her recent book tour, a weakness that Mook supporters say he has a track record of addressing. And, her operation is famous for the kind of infighting that Mook-run shops have been able to avoid.
Clinton hasn't officially announced whether she's running–and other names including Emily's List President Stephanie Schriock and California Democratic strategist Ace Smith still surface for the top job.
Obama counselor John Podesta, a onetime chief of staff to President Bill Clinton, is expected to take on a high-ranking role, perhaps as campaign chairman.
Mook and Clinton spokesman Nick Merrill declined to comment for this story.
Last month, ABC News published leaked excerpts from a private email listserv called the "Mook Mafia" in which Mook and other Democratic operatives shared thoughts on politics and politicians. In one, Mook wrote about wanting to "smite Republicans mafia-style."
Mook, who is rarely quoted in news stories, has been silent on the prospective Clinton campaign. That's a good sign for Clinton allies who want a lower-drama operation this time around.
Before it's here, it's on the Bloomberg Terminal.
LEARN MORE