The 'I Can't Breathe' Profiteers
From protest chant to popular slogan, Americans are ready to make money off Eric Garner's last words.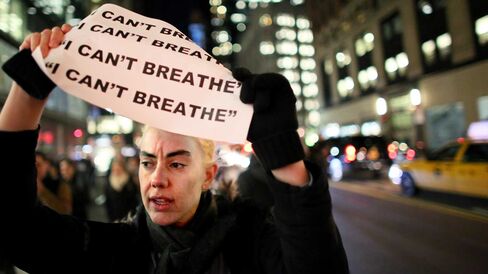 "I Can't Breathe" has officially entered the American spin-cycle of Internet meme, online backlash, and real-world profit.
A 57-year-old Illinois woman has applied for a trademark on Eric Garner's dying words, for use on clothing–"namely hoodies, t-shirts for men, women, boys, girls and infants," according to a trademark petition posted by the Smoking Gun website. The phrase, spoken by Garner after he was put in a chokehold by New York police, has become a chant for protesters in marches against police tactics.
In the application, Catherine Crump says she's been using the words on merchandise since Aug. 18, just about a month after Garner's death. From the Smoking Gun:
In an interview, Crump said that she had "nothing to do with the Garner family," and had not spoken to them about her trademark bid. While claiming that her purpose for marketing "I can't breathe" garments was not to make money, she declined to disclose what other reason there was for her trademark filing (which cost $325).
Crump isn't the only person seeing dollar signs in the outcry over Garner's death. Last week, the Federal Election Commission approved the "I Can't Breathe PAC," according to a report by the Center for Public Integrity. The group says it will back candidates who support overhauling the criminal justice system, including mandating special prosecutors for brutality cases.
So far, the PAC has no donors beyond its founder, Tarik Mohamed, a visual communications strategist who spent his own money to set-up a website. But Mohamed remains hopeful. "A part of this is really just taking a page out of the Koch brothers' playbook," he said. "They have been very successful in getting candidates elected through their use of super-PACs, so it's about time that us, the people, form our own super-PACs."
Before it's here, it's on the Bloomberg Terminal.
LEARN MORE