Chris Christie's Cuba Demand: Hand Over Chesimard
The New Jersey Governor, as well as state police and other politicians, want Cuba to return the wanted cop-killer as part of any deal for normalizing relations with the U.S.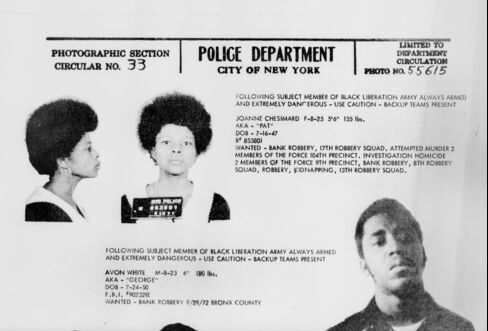 New Jersey Governor Chris Christie disagrees with President Obama's decision to normalize relations with Cuba, but there's one thing that could help him change his mind: the return of convicted cop killer Joanne Chesimard.
Christie sent Obama a letter on Friday urging him to tag on that demand to any deal that would further thaw relations between the U.S. and Cuba.
"I do not share your view that restoring diplomatic relations without a clear commitment from the Cuban government of the steps they will take to reverse decades of human rights violations will result in a better and more just Cuba for its people," Christie said in his letter. "However, despite my profound disagreement with this decision, I believe there is an opportunity for Cuba and its government to show the American people it is serious about change."
Chesimard, who was convicted of murdering state trooper Werner Foerster during a gunfight that transpired after she was pulled over on the New Jersey Turnpike in 1973, escaped from prison in 1979 and fled to Cuba, where she was granted asylum by Fidel Castro.
The FBI says Chesimard was a member of the Black Liberation Army, and is seeking her return so that she can continue serving her life sentence.
The New Jersey State Police and Democratic Senator Bob Menendez have also called on Obama to demand that Cuba return Chesimard to the state.
"Cuba's provision of safe harbor to Chesimard by providing political asylum to a convicted cop killer, and her ability to elude justice, is an affront to every resident of our state, our country, and in particular, the men and women of the New Jersey State Police, who have tirelessly tried to bring this killer back to justice. I urge you to demand the immediate return of Chesimard before any further consideration of restoration of diplomatic relations with the Cuban Government," Christie stated in his letter to the president.
Before it's here, it's on the Bloomberg Terminal.
LEARN MORE