Spotted at the Capitol: Real Human Emotions
In farewell speeches, eight lawmakers pour their hearts out.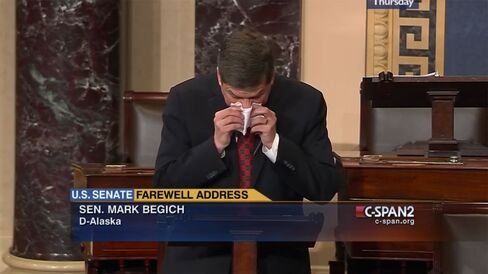 Many speeches by members of Congress are boring recitations of trite talking points.
Farewell addresses can be different—emotional, personal, funny and revealing—as departing lawmakers reflect on their service and say goodbye to colleagues and aides who became friends. The scale of the moment sinks in. And whether they're leaving because of retirement or an election loss, it is often an opportunity for the lawmakers to say what they're really thinking.
Here's a look at some memorable moments from this year's round.
1. Senator Mark Begich
The Alaska Democrat, who lost his campaign for a second term to Republican Dan Sullivan, teared up as he acknowledged his wife in the gallery. (20:20-21:40)
http://www.c-span.org/video/?323252-12/senator-mark-begich-dak-farewell-address-tributes
2. Senator Tom Coburn
The outspoken Oklahoma Republican is resigning with two years left in his term. The fiscal hawk used an emotional address to apologize and repeatedly invoke the founding documents.
"To those of you through the years who I have offended, I truly apologize. And I think none of that was intended, because I actually see things different," Coburn said, his voice breaking. "You see, I believe our founders were absolutely brilliant, far smarter than us."
Coburn also told colleagues that "we need to be supporting and praying for" President Barack Obama, whom Coburn counts as a friend despite their ideological disagreements. Coburn entered the Senate with Obama in 2005. (7:28, 12:58)
http://www.c-span.org/video/?323252-8/senator-tom-coburn-rok-farewell-speech-senate-tributes
3. Representative Michele Bachmann
The Minnesota Republican and 2012 Tea Party-aligned presidential candidate thanked many people, including the political donors who helped her raise millions to win close re-election contests. (She decided not to seek reelection in 2014.) Speaking without notes, Bachmann reserved her biggest thanks for the long-dead founding fathers, "who gave us the most incredible ride, by believing in us and in our future." (9:43, 16:53)
http://www.c-span.org/video/?323108-11/representative-michele-bachmann-farewell-address
4. Senator Jay Rockefeller
The West Virginia Democrat and scion of a wealthy industrialist family reflected on how he fell in love with his adopted state as a 27-year-old VISTA volunteer in 1964, serving the small coal community of Emmons.
"It was a place that set my moral compass and gave me direction, where everything in my real life actually began, where I learned about how little I knew about the problems that people faced there and other places in the country," said Rockefeller, who is retiring. (2:08-2:52)
http://www.c-span.org/video/?323076-6/senator-jay-rockefeller-dwv-farewell-address
5. Senator Tom Harkin
The Iowa Democrat, who helped write the 1990 Americans with Disabilities Act, once delivered part of a floor speech in sign language. He closed his farewell speech with an encore. (30:57-32:45)
http://www.c-span.org/video/?323286-5/senator-tom-harkin-farewell-address-tributes
6. Senator Saxby Chambliss
The Georgia Republican acknowledged his "three best buddies" from the days when he served in the House: Richard Burr of North Carolina, now in the Senate; Tom Latham of Iowa, who is retiring like Chambliss; and Speaker John Boehner of Ohio. Along with Coburn, they have all been "legislative collaborators, dinner partners, golfing buddies, confidants and numerous other things that should not be mentioned on the floor of the United States Senate," Chambliss said.
As the top Republican on the intelligence committee, he said that he will miss "those late afternoon glasses of California wine" with Chairwoman Dianne Feinstein, a California Democrat. (5:40-6:05, 6:20)
https://www.youtube.com/watch?v=OKCL4caXLW0
7. Representative Buck McKeon
The California Republican, who is finishing up as chairman of the Armed Services Committee before retirement, choked up as he acknowledged his staff and family. "I did not want to give this speech. Not because I have any regrets. I just have this problem. Thankfully, the speaker has it a lot worse than I do, and he gets all of the attention, but I have the same problem," said McKeon, referring to Boehner's penchant for weeping. (3:18:04)
http://www.c-span.org/video/?323075-1/us-house-legislative-business
8. Representative Kerry Bentivolio
The Michigan Republican was bounced from Congress after winning in a fluke in 2012. He ended his brief speech by calling attention to his background as a reindeer farmer and Santa Claus actor. "Merry Christmas to all, and to all a good night." (1:09:20)
http://www.c-span.org/video/?323111-2/us-house-2015-federal-spending-bill-debate-votes
Before it's here, it's on the Bloomberg Terminal.
LEARN MORE