Bush Strikes Back Against Democratic Attack Plan
Memo portrays the former governor as being out of touch with the middle class.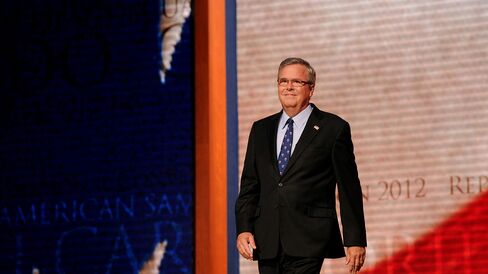 Democrats already are trying to define former Florida Governor Jeb Bush as an out-of-touch Wall Street millionaire, eager to continue his brother's policies–or at least so says Bush.

On Friday, the likely Republican presidential candidate posted a memo of Democratic talking points slamming his record on his Facebook page in an effort to turn the tables on his attackers. "These silly talking points, misleading and misinformed as they are, show you just how void of ideas the Democrats have become," he wrote. "If I do decide to run for President, I can promise you this: no more Kindergarten attack politics."
The 600-word document, first reported by Politico, emerged from a private conference call held to prepare Democrats going on the Sunday talk shows to discuss Bush's announcement that he will actively explore a run for president. The memo portrays Bush as a wealthy insider who enriched himself at the expense of struggling middle-class Americans–a tactic that Democrats used successfully against Republican nominee Mitt Romney in 2012.
"Jeb Bush is looking out for himself and people like him over the priorities of everyday Americans," the memo states. "Bush has spent his career doing what would benefit himself and people like him–certainly not looking out for working Americans."
The document also highlights comments Bush has made about the Equal Rights Amendment, the Paycheck Fairness Act, equal pay, and gay rights. It also notes Bush's support of voter ID laws, seen as discriminatory by many black voters, and tough stance against undocumented immigrants. "Jeb Bush is completely out of step with the American people," says the memo.
The points illustrate more than a mild level of concern among Democrats over the former Florida governor. At least a few people in Hillary Clinton's camp believe Bush has the potential to be a challenging opponent if he can make it through the complicated politics of the Republican primary. A fluent Spanish speaker from a critical battleground state, Bush has the potential, at least, to win a bigger share of the Latino vote than Romney, and that worries some Democrats.
"I would think that a Jeb Bush and a Rob Portman—just as a hypothetical—would be a strong ticket," Clinton confidant Harold Ickes said last month.
Bush, meanwhile, is well aware of his own weaknesses. A Bloomberg Businessweek story about his private equity investments worried some of his backers, who feared he could be vulnerable to the same rich-guy attacks that hobbled Romney. At the same time, concerns that Romney emissaries were testing the waters for another bid by reaching out to possible donors may have accelerated Bush's timetable.
A national ABC News/Washington Post poll conducted just before Bush's announcement found him leading a GOP primary field that didn't include Romney by two percentage points.
In November, a Bloomberg Politics/Saint Anselm New Hampshire Poll of likely primary voters in that state showed the former governor narrowly trailing Senator Rand Paul and New Jersey Governor Chris Christie, with the early support of just 14 percent in a Romney-less field.
Before it's here, it's on the Bloomberg Terminal.
LEARN MORE