Marco Rubio's Reality Check on Cuba
The Florida senator is promising to fight President Obama's Cuba plans, but he may not have the political swag to win it.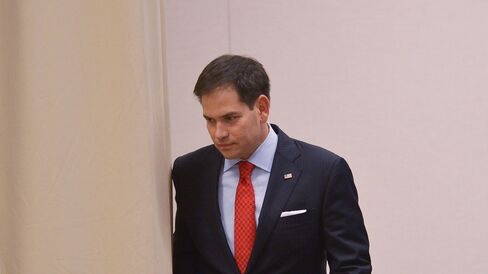 Senator Marco Rubio says he'll use his position on the Senate Foreign Relations Committee to slap back at President Barack Obama's diplomacy with Cuba. The trouble is, the Florida Republican may lack both the jurisdiction and the compatriots to carry out those threats.
Of the 10 Republicans appointed to Foreign Relations for the new Congress, two have expressly said they support Obama's moves. Arizona Senator Jeff Flake was part of the entourage that brought home Alan Gross, the American aid worker whose freedom from a Cuban jail helped pave the way for the warming relations. Kentucky Senator Rand Paul, another committee member, and prospective rival to Rubio in the 2016 Republican presidential primary, said in an interview Thursday with a West Virginia radio station that "opening up Cuba is probably a good idea." The incoming chairman, Tennessee Senator Bob Corker, is sticking to a fairly neutral message, saying the next Congress "will be closely examining the implications of these major policy changes."
Even if Rubio can rally support, there may not be much he can do through the committee. In response to a reporter's question in Miami on Thursday, Rubio said he's looking at options and would figure out the details in the future. On Wednesday, the senator acknowledged that most of what Obama did to normalize relations was within the president's purview. The bits left for the Senate to pick away at largely fall outside Rubio's wheelhouse: Trade embargo policy would go through Senate Banking, and funding an embassy would be handled by Senate Appropriations, where South Carolina's Lindsey Graham—another potential presidential contender—would manage the fight and grab the headlines.
That leaves the ambassadorship, which would come through Foreign Relations. "Not only will I vote against it," Rubio said in a CNN interview, "but I reserve the right to do everything within the rules of the Senate to prevent that sort of individual from ever even coming up for a vote."
To build his case publicly, Rubio will almost certainly need to hold hearings packed with witnesses who agree that Obama's policy is disastrous. But who will join him in asking the tough questions?
None of the Republican senators on the committee have rushed to declare they're with him. Georgia Senator Johnny Isakson appeared be Rubio's strongest sympathizer; he'll hear him out "because of his expertise on the subject," Isakson's spokeswoman Amanda Maddox said in an email. That's by no means a commitment, especially given that Isakson is up for re-election in 2016.
And that's where the U.S. Chamber of Commerce comes in.
The business league is unabashedly gleeful about the prospect of opening up Cuba to American companies. "We deeply believe that an open dialogue and commercial exchange between the U.S. and Cuban private sectors will bring shared benefits, and the steps announced today will go a long way in allowing opportunities for free enterprise to flourish," Chamber President Tom Donohue said in a statement. Isakson has a 91 percent lifetime approval rating with the chamber.
The Chamber isn't afraid to spend big money helping elect business-friendly lawmakers, and oust those who aren't. The group made a $2 million investment in incoming Republican Senator Cory Gardner of Colorado, now on the Foreign Relations Committee. Gardner hasn't said anything on Cuba, and a spokeswoman declined to comment on Thursday.
Rubio's best Foreign Relations ally may actually be a Democrat who also has Cuban roots and has long warned against working with the Castro regime. Although most of the nine Democrats on the committee will probably line up with Obama, New Jersey Senator Bob Menendez said, "Obama's actions have vindicated the brutal behavior of the Cuban government."
Before it's here, it's on the Bloomberg Terminal.
LEARN MORE