Congress Sends Obama Measure Pushing for More Russia Sanctions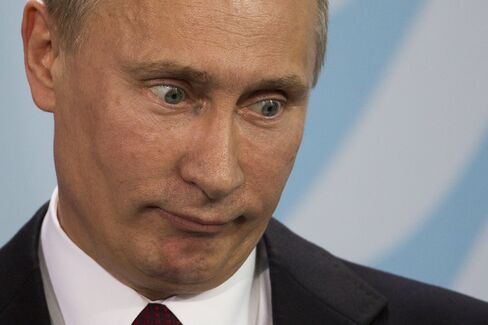 The U.S. Congress has sent President Barack Obama legislation setting out tougher sanctions to punish Russia for its intervention in Ukraine, while giving him leeway in applying most of the provisions.
The Senate gave final approval by unanimous consent late last night to the measure that authorizes -- but doesn't require -- providing lethal assistance to Ukraine's military as well as sweeping sanctions on Russia's energy sector. Those steps go beyond what the White House and European Union have been willing to do so far.
White House press secretary Josh Earnest said on Dec. 12 that the administration hadn't finished reviewing the language and wasn't ready to say whether Obama would sign it. He said the administration wants to ensure that the U.S. and its European allies are working together, that any sanctions are effective and that they minimize harm to U.S. and European companies.
"This is delicate work," Earnest said.
The resolution was softened from its original text, which would have required sanctions on the Russian energy industry and made Ukraine, Moldova and Georgia "major non-NATO allies," a designation that would facilitate arms transfers and greater military cooperation with the former Soviet republics.
Privately, one U.S. official said the amended text was much improved and provides tools the president can use at his discretion without tying his hands. The official, who spoke on condition of anonymity because he wasn't authorized to be identified, called the new resolution more useful and less polemical than the initial version, and said it showed Congress listened to the administration's concerns.
'Deeply Confrontational'
Russia's Foreign Ministry spokesman Alexander Lukashevich last week condemned the legislation as anti-Russian and "deeply confrontational." It will "destroy cooperation," he said, adding that Russia "won't succumb to blackmail, won't compromise its national interests and won't allow interference in its internal affairs."
The measure, HR 5859, which won unanimous initial approval in both the Senate and House last week, would mandate U.S. sanctions against Rosoboronexport, the state agency that promotes Russia's defense exports and arms trade. It also would require sanctions on OAO Gazprom, the world's largest extractor of natural gas, if the state-controlled company withholds supplies to other European nations.
'Hesitant Response'
"The hesitant U.S. response to Russia's continued invasion of Ukraine threatens to escalate this conflict even further," said Senator Bob Corker, a Tennessee Republican and co-author of the measure in the Senate, along with Senator Robert Menendez, a New Jersey Democrat and the outgoing chairman of the Foreign Relations Committee.
"Unanimous support for our bill demonstrates a firm commitment to Ukrainian sovereignty and to making sure Putin pays for his assault on freedom and security in Europe," Corker said of Russian President Vladimir Putin.
The Obama administration and the business community opposed the bill's original language on the grounds that the measures would have harmed U.S. and European energy companies. The White House was most concerned about undermining its united front with the European Union, arguing that to keep sanctions against Russia effective, the U.S. must move in tandem with its allies, whose trade with and economic leverage over Russia far outstrips the U.S.'s.
Obama's Comments
"The notion that we can simply ratchet up sanctions further and further and further, and then ultimately, Putin changes his mind I think is a miscalculation," Obama told chief executive officers on Dec. 11 at a meeting of his export council. "What will ultimately lead to Russia making a strategic decision is if they recognize that Europe is standing with us and will be in it for the long haul and we are, in fact, patient. And if they see that there aren't any cracks in the coalition, then over time, you could see them saying that the costs to their economy outweigh whatever strategic benefits that they get."
The required sanctions on the Russian defense export agency won't affect the U.S. Defense Department, which last year ended a contract to purchase Russian helicopters for the Afghan military.
The most recent U.S. sanctions on Russia were imposed Sept. 12. The administration so far has resisted providing lethal assistance to Ukraine, arguing that doing so could escalate the conflict.
Aiding Ukraine
The measure would provide $510 million in assistance to the Ukrainian government, including $160 million for military aid. The rest would go to promoting energy efficiency, civil society and broadcasting to counter Russian propaganda.
The bill requires that any sanctions imposed remain in place until the president can certify that Russia has ceased trying to destabilize Ukraine. The original draft would have kept those provisions in place until Russia also abandoned interfering in Georgia and Moldova, conflicts that have dragged on for years.
A European diplomat involved in sanctions policy said the current mood in the EU is against imposing more sanctions unless Russia escalates its military interference in Ukraine. The EU wants to avoid any divisions with the U.S. but is unlikely to mirror the congressional measure's provisions now, according to the diplomat, who spoke on condition of anonymity to discuss private consultations.
Before it's here, it's on the Bloomberg Terminal.
LEARN MORE