Obama's Left-Side Headache
If the #cromnibus debate is a sign of what's to come, President Obama may wish he had given Elizabeth Warren the Consumer Financial Protection Bureau post she wanted.

From trade to taxes, President Barack Obama is looking for areas to cut deals with the new congressional Republican majority and burnish his legacy. Judging by the budget debate this week, at least one obstacle to bipartisanship will be the progressives in his own party, who will have a more influential voice in a slimmed-down caucus when Congress returns in January.
House Democratic Leader Nancy Pelosi gave the White House palpitations Thursday when she railed against the $1.1 trillion government spending bill that the president supported, delaying the vote for hours and increasing the risk of a second government shutdown in as many years. Obama needed to make personal calls to House Democrats to shore up support, and sent his chief of staff, Denis McDonough, to the Capitol to do the same. The announcement on Friday that Senator Sherrod Brown of Ohio will serve as the top Democrat on the Banking Committee, released in the midst of the spending fight that had been held up by a debate over derivatives, foreshadowed more resistance. The pro-labor senator's news release came complete with statements of support from leaders of credit unions and homeless and housing advocates, rather than Wall Street titans.
Blowback was coming from the outside, too. Americans for Financial Reform–a liberal advocacy group–was the first to alert Pelosi's office to a provision in the spending measure that loosened a banking regulation imposed by the 2010 Dodd-Frank financial reform law. That sparked an anti-Wall Street narrative and led to other liberal groups, like Progressive Change Campaign Committee, asking their members to contact lawmakers and register their opposition. The group also sought to raise money off the dispute.
The biggest internal-party challenge for Obama may prove to be Senator Elizabeth Warren of Massachusetts, who some progressives are urging to run for president in 2016 as an alternative to Hillary Clinton. (Warren has said she's not running.)
Warren, who has been trying to block Obama's nomination of investment banker Antonio Weiss to the No. 3 position at Treasury, is leading the opposition to the spending bill in the Senate, ironically aligning herself with Senator Ted Cruz, a Tea Party darling from Texas. "She's laying down a marker for next year, when she expects Republicans to try to gut many key Wall Street related regulatory reforms," said Jim Manley, a Democratic strategist and former aide to Senate Majority Leader Harry Reid of Nevada. "I expect at times she's going to a thorn in the side of the administration, absolutely."
https://twitter.com/elizabethforma/status/543771469743153152
After the spending plan passed the House on Thursday thanks to support from about one-third of the Democratic caucus, Warren on Friday unsuccessfully tried to remove the provision, which would cut down a narrow rule guiding how banks can hold derivatives. She framed the debate as one between working families and the powerful lobbyists for Citigroup, which took more bailout money than any other U.S. lender and whose "grip over economic policymaking in the executive branch is unprecedented."
"Let me say this to anyone who is listening at Citi," Warren said from the Senate floor. "I agree with you Dodd-Frank isn't perfect. It should have broken you into pieces."
While the spending debate signaled trouble ahead for Obama, Democrats were encouraged by their own ability to play nice. Pelosi and Warren both hammered the deal—simultaneously at one point from their respective chambers on Thursday—but neither were pressuring members to vote against it behind closed doors, according to Democratic sources. That restraint helped preserve a larger deal, expected to get a final vote in the Senate on Monday, that includes spending for the Affordable Care Act and environmental programs that many in their party support.
"We strengthened our position to achieve common sense solutions for the American people in the 114th Congress," Pelosi wrote to colleagues on Friday about the effect the budget debate will have heading into the next two-year legislative session. "We hope to do so in a bipartisan way, but stand ready to sustain the president's veto when necessary.
And the relationship between Warren and Obama has a strong foundation. Dating back to his first term, Obama considered appointing Warren to head the Consumer Financial Protection Bureau. When it appeared that her nomination was too controversial for the Senate, he asked her to help set up the newly created agency.
The White House coordinated outreach with Warren's staff during the debate over extending a package of special-interest tax breaks that had expired. They worked together on Warren's plan to help refinance college loans, which didn't pass but became a key Democratic talking point this year. The two also are working together to confirm Obama's surgeon general nominee, Vivek Murthy.
Obama aides also make the case that the president has done plenty in recent weeks that progressives embrace, from his executive actions on immigration to his net neutrality stance and his climate deal with the Chinese.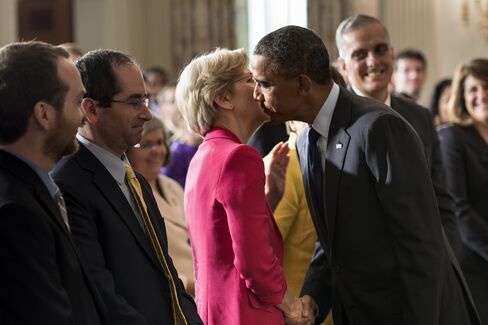 White House press secretary Josh Earnest on Friday downplayed the fight with Democrats over the spending bill, saying it was "a difference over tactics not a difference over principle." He warned that "people who underestimate Nancy Pelosi do so at their own risk" and said Obama and Warren are on the same side on many issues, from Wall Street reform to their recent position over tax extenders. "Those shared values will be on display over the next couple of years," he said.
But they won't be on display all the time. Earlier this month, Obama told the Business Roundtable he wants to work with Republicans to get free-trade deals and corporate tax reform. The biggest opponents to those types of deals have been from his own Democrats, with Warren leading the charge.
Obama and Warren have had their tougher moments. She criticized the administration for increasing the concentration of people with ties to the megabank Citigroup in senior government positions. When Larry Summers was floated as a potential Federal Reserve chairman, she orchestrated a letter showing support for Janet Yellen, who eventually got the post. In her book, A Fighting Chance, Warren recounted she sought to negotiate her power as an adviser to U.S. Consumer Financial Protection Bureau, only to be told by Obama, "You're jamming me."
Mary Anne Marsh, a Democratic strategist, said that Warren "is unafraid and unabashed no matter the opponent" and that anyone who has doubted her resolve has learned the hard way. "That includes the White House," she said.
"It's nothing personal here," Manley said. "She's just got deeply held views that are going to drive her in the future, I think, to play a little more assertive role on the Senate floor."
Annie Linskey and Phil Mattingly contributed to this report.
Before it's here, it's on the Bloomberg Terminal.
LEARN MORE