Does Congress Think High-Sodium Diets Aren't Bad for Kids?
Research shows that too much sodium can increase a child's blood pressure. Based on the current spending bill, Congress isn't convinced.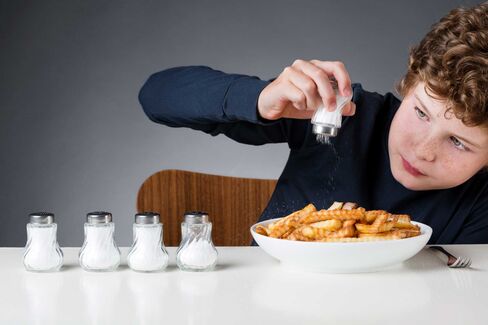 Buried in the spending bill just passed by the House is a policy rider blocking upcoming rules to limit sodium and mandate whole wheat in federally funded school meals. While the mainstream media has been reporting this as a hit to the law, conservative sites are underwhelmed–they think it doesn't go far enough. "The new spending bill … doesn't include even a temporary waiver provision to give some schools a reprieve from new and problematic federal school meal standards," wrote Daren Bakst at the Heritage Foundation's the Daily Signal. Breitbart called the lack of reprieve a "GOP Cave."
But the oddest effort to roll back the guidelines is the provision blocking lower sodium limits in school meals "until the latest scientific research establishes the reduction is beneficial for children." Either Congress believes that a new study will come out praising high-sodium diets for children, or it's just pretending to be unconvinced by years of research.
The Healthy and Hunger-Free Kids Act of 2010 mandates that sodium maximums in school breakfasts and lunches drop in three stages between now and 2022. As shown in the chart below (via a USDA handout), a high school student's lunch could have up to 1420 milligrams of sodium this school year, 1080 milligrams during the 2017-18 school year, and only 740 by the 2022-23 school year. That may sound like a steep cut in sodium, but the maximum daily recommended intake for teens and adults over age 14 is 2,300 milligrams a day (about one teaspoon of salt), according to the most recent Dietary Guidelines for Americans released in 2010.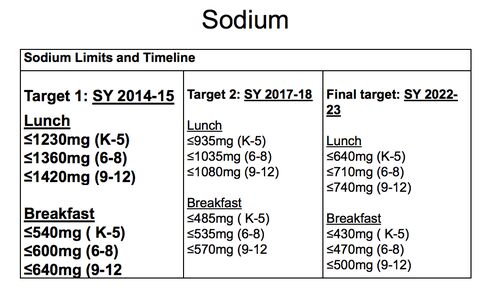 The guidelines recommend less sodium because, not surprisingly, too much sodium is definitely bad for you. "The bottom line is, children and teens nationwide are eating too much sodium," Janelle Gunn, a public health analyst for Centers for Disease Control's Division for Heart Disease and Stroke Prevention, told Bloomberg Politics in an email. Gunn said most teens consume about 3,700 milligrams a day.
Too much sodium can increase a child's blood pressure–and statistics show one in six children already has raised blood pressure, or above the normal range. High blood pressure is a major risk factor for heart disease and stroke, two of the leading causes of death for adults in the U.S. A vast body of scientific research confirms that as sodium intake is reduced, so is blood pressure.
Since 1994, federal law has required school food authorities to serve lunches that meet the Dietary Guidelines, according to a recent report from the Government Accountability Office. A 2004 federal law required that the U.S. Department of Agriculture provide schools with nutrition recommendations, so the USDA asked the Institute of Medicine to use the 2005 Dietary Guidelines (which also recommend less than 2,300 milligrams of sodium a day) to create recommendations for the National School Lunch Program, which it did. And if that wasn't clear, the school lunch law also demands that the Secretary of Agriculture "establish science-based nutrition standards" based on the most recent Dietary Guidelines.
The effects of the "Cromnibus" rider may not last long, however. It would limits sodium to the current "Target 1" levels until the newest scientific research becomes available–which means sometime next year. The government is set to release the next edition of the Dietary Guidelines in 2015, well before the sodium limits are set to drop in 2017. Jessica Donze Black, a child nutrition expert at the Pew Charitable Trusts, told the Hill she believes the next edition will back up the science of the standards.
But, who knows? Researchers might find that high-sodium diets aren't all that bad.
Before it's here, it's on the Bloomberg Terminal.
LEARN MORE