Two White Hollywood Big Shots Discuss the First Black President's Taste in Movies
The Sony hack reveals that stereotyping banter really is the lingua franca of Hollywood heavyweights.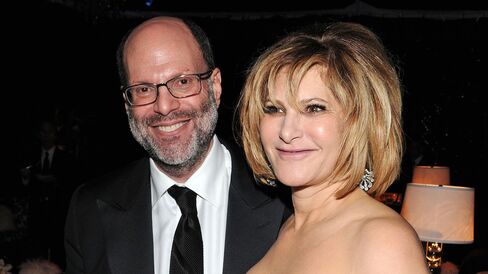 On Christmas Day, Sony Pictures plans to release a film called "The Interview," a caper in which the CIA recruits a tabloid talk-show host and his producer, played by James Franco and Seth Rogen, to kill the North Korean despot Kim Jong-Un. North Korea does not find this pleasing. Some investigators believe that North Korea is responsible for the recent cyber-attack into the computer system at Sony Pictures, a massive hack that has released a haul of hypersensitive internal information: employee salaries (Sony Chairman Michael Lynton, an American, earns $3 million a year—twice the salary of his boss, Sony C.E.O., Kazuo Hirai, who is Japanese; 17 American employees of Sony have seven-figure salaries, "nearly all are white and only one of them is a woman"), celebrity aliases, high-profile internal dealings (about a Steve Jobs film, for instance), and more.
The drama has taken a new turn. As opposed to the fictional satire of the clash of North Korean and Hollywood mores of "The Interview," the Sony hack has become a news happening, a Bruce Wagner novel come to life. We always guessed these big shots talked this way—but it may have taken the North Koreans to prove it.
One particularly embarrassing morsel comes in a leaked e-mail exchange between Sony Pictures Chair Amy Pascal and mega-producer Scott Rudin, a friend of hers (at least then). According to BuzzFeed, Pascal emailed Rudin in advance of a breakfast event hosted by Jeffrey Katzenberg, the head of DreamWorks Animation.
She wrote, "What should I ask the president at this stupid Jeffrey breakfast?" Rudin replied, "Would he like to finance some movies." With her response, the tenor of the conversation changed:
Pascal: "I doubt it. Should I ask him if he liked DJANGO1?"
Rudin: "12 YEARS2."
Pascal: "Or the butler. Or think like a man? [sic]3"
Rudin: "Ride-along. I bet he likes Kevin Hart.4"
Those of us who don't attend the Academy Awards may not fully understand Tinseltown-level discourse, so for laypeople like you and me: the nuanced comic thread here is that black people only love movies starring black people.
Another message revealed in the hack features Sony executive Clint Culpepper calling Kevin Hart a "whore" for asking for more money from the studio.
Pascal is a major Democratic donor, who, according to OpenSecrets, gave $5,000 to Obama's re-election campaign, and $30,800 to the Democratic National Committee. According to the Sunlight Foundation, Rudin, for his part, has donated $18,900 to Democratic presidential candidates. In 2004, The New York Times called him "an active Democrat and party donor."
"The stories that we tell transmit values and ideals about tolerance and diversity and overcoming adversity, and creativity that are part of our DNA," Barack Obama told an audience thick with Hollywood insiders at Dreamworks last year. But the the Sony hack reveals a certain gap between the stories and the values.
Update:
Amy Pascal has apologized for her remarks in a statement. "The content of my emails were insensitive and inappropriate but are not an accurate reflection of who I am," she said, according to Variety. "Although this was a private communication that was stolen, I accept full responsibility for what I wrote and apologize to everyone who was offended."
Rudin also issued an apology Thursday, on Deadline. "I made a series of remarks that were meant only to be funny," he said, "but in the cold light of day, they are in fact thoughtless and insensitive — and not funny at all. To anybody I've offended, I'm profoundly and deeply sorry, and I regret and apologize for any injury they might have caused."
Before it's here, it's on the Bloomberg Terminal.
LEARN MORE