All Eyes On Nancy Pelosi as Government Shutdown Looms
Will the top House Democrat hold up a spending plan without last minute changes?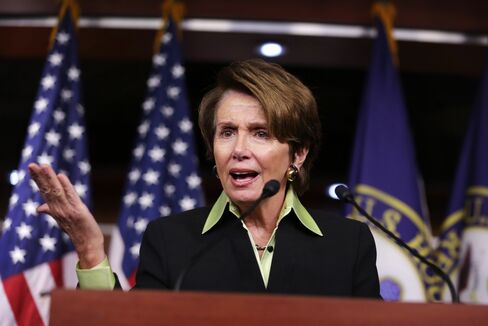 Is Nancy Pelosi bluffing?
With a liberal revolt rising and a government shutdown looming, House Minority Leader Nancy Pelosi must decide whether to withhold her support or let a spending plan pass despite a pair of provisions gnawing at her fellow Democrats. In an interview Wednesday, Pelosi refused to say how far she will take her opposition to the measures that would roll back some bank regulations and allow for even more campaign spending.
"We'll just see where we go," Pelosi told Bloomberg Politics in an exchange near her Capitol office. "The Republicans have their own problems with the bill. If they have 218, then they can pass their bill."
Pelosi has maintained all along that avoiding a shutdown is her top priority. But after Republicans released their spending plan, which has come to be known as the "crominbus" in Washington parlance, Pelosi demanded the bank-related items be removed. "These provisions are destructive to middle class families and to the practice of our democracy," Pelosi said in a statement on Wednesday. "We must get them out of the omnibus package."
Last week, Pelosi trumpeted the leverage her party had in the negotiations as Republican infighting stymied efforts by House Speaker John Boehner to collect the votes needed—usually about 218—to pass almost any controversial measure, including spending plans. Lawmakers must approve a spending measure by Dec. 11, or face a second shutdown in as many years.
Pelosi suggested that the pair of offending measures were a last-minute surprise. "We weren't part of any negotiations for diminishing Dodd-Frank, or increasing the money in politics," she said. Pelosi also refused to say whether she'd vote for the measure as it now stands. "We'll just see what it is," she added.
It's unclear exactly how many votes the Republican majority will need. Representative John Fleming, a Louisiana Republican, said at least 40 of 232 House Republicans oppose the measure. A majority of the party—144 out of 232—opposed the spending deal to reopen government after the last shutdown in October of 2013.
House Majority Leader Kevin McCarthy declined to say whether Republicans would need Democratic support to pass the plan. "Good thing I'm no long whip, right?" said McCarthy, a California Republican who, as whip during the last shutdown, was in charge of counting votes.
One of the troubles that McCarthy and other House Republican leaders faced last year was opposition from Senator Ted Cruz, a Texas Republican who is influential with House members aligned with the Tea Party. In September, Cruz vowed to block any non-emergency legislation proposed after the November elections, when Democrats still control the chamber until the new Republican majority takes over in January. Since the midterms, he's remained relatively quiet about his posture on the spending bill.
On the other side of the political spectrum, Massachusetts Senator Elizabeth Warren spoke from the Senate floor saying the provision was written by Citigroup lobbyists and asking House Democrats to withhold their support until it was removed. "I haven't had anyone contact me and say, what I really want is for Congress to change the law so big banks can get a little more profitable," Warren told reporters later in the day. "This isn't about compromise. It's about reckless behavior."
Pelosi's leadership office forward an e-mail from Warren's office registering her opposition, as well as statements of disapproval from FDIC Vice Chairman Thomas Hoenig, AFL-CIO President Richard Trumka, former House Financial Services Committee Chairman Barney Frank and another from six groups, including Common Cause and League of Women Voters.
The divisions within Pelosi's caucus are evident, and were growing. Representative Collin Peterson, a Minnesota Democrat who negotiated an agricultural plank included in the spending measure, said he'll vote against it unless the Dodd-Frank measure is removed. "I hope it goes down," Peterson told reporters. "I'll stay here as long as I need to."
Representative Chris Van Hollen, the top Democrat on the budget committee, said he opposed the measure, as did fellow committee member Adam Schiff, a California Democrat. "There is a very strong degree of skepticism in our caucus," Schiff said. "I wouldn't count on them getting a lot of votes out of our group."
Representative George Miller, a California Democrat and close ally of Pelosi, said he's considering opposing the bill, despite winning pension changes that labor unions have supported. Miller disputed it may be too late to re-open negotiations by pointing to the fact that federal lawmakers control the clock.
"Time is what we decide it is," Miller said. "We have a lot of time, or no time. But that's just a decision we make."
—Jim Rowley, Dave Weigel and Erik Wasson contributed to this report.
Before it's here, it's on the Bloomberg Terminal.
LEARN MORE