Fraternities Tap Former Pledges In Washington to Counter Criticism
The national organizations of Greek life turn to a powerful former senator and Sigma Nu brother for help in Washington.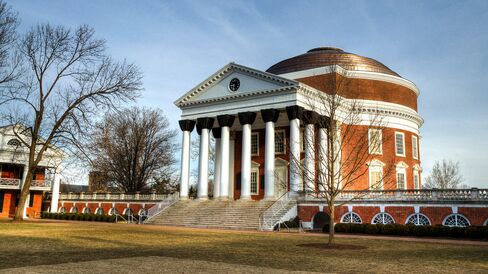 Frat bros and sorority members are trying to show Congress they're about more than just keg stands, beer pong and hazing. Along with bulking up their lobbying team in Washington, the national organizations of Greek life on college campuses are conducting an internal assessment of the sexual-assault problem on campuses, according to a person familiar with their thinking.
"Fraternities and sororities represent hundreds of thousands of students nationwide and they haven't had a strong voice in this process at the policy stage," said Kevin O'Neill, a lobbyist for the Fraternity and Sorority Political Action Committee. "We intend to help them have this voice in the next couple years as Congress examines this issue."
Former Senate Majority Leader Trent Lott, one of the Capitol's top lobbyists (and a former president of the Sigma Nu fraternity at the University of Mississippi), has been hired as part of their effort to expand their representation in Congress in the wake of a Rolling Stone article describing how a University of Virginia student was allegedly gang-raped at a school fraternity party. Though questions have been raised about the account detailed in the article, the renewed focus on campus sexual assaults has prompted a fresh wave of action in Congress starting with a hearing Tuesday in the Senate Judiciary Committee on the role of law enforcement in campus sexual assault.
"Our problem is victims are too frightened to come forward," said Senator Claire McCaskill at the hearing. "This bad piece of journalism, I think, has set us back and I want to make sure we overcome it." The Missourian and a fellow Democrat, Senator Kirsten Gillibrand of New York, plan to resurrect a bill that would mandate the public release of anonymous surveys concerning assault on campuses, and impose significant financial penalties on universities that fail to comply with the law's requirements. They'll push for a vote in the next Congress.
"The fact that, according to one study, nearly one in five women in college will be victims of sexual assault or attempted assault during their undergraduate careers should shake the conscience of all of us, and it demands our action," Gillibrand said Tuesday. "Too many young women's lives are being changed forever for us to accept the status quo."
In a joint statement issued last weekend, the Fraternity and Sorority Political Action Committee, the National Panhellenic Conference, and the North American Interfraternity Conference said that sexual assault accusations should be handled by the criminal justice system—not through internal campus processes. They're also pushing for University of Virginia to reinstate its Greek system. "We believe universities must demonstrate more respect for the fundamental rights to due process and freedom of association for students and student organizations when allegations of misconduct are lodged," the groups said. "A rush to judgment on campus all too often turns out to be wrong, especially when applied at the organizational level."
Greek organizations are big business and, like most major industries, they have their own Washington operation. National fraternities and their charitable foundations generated $170 million in revenue in 2010, mostly from student dues, up from about $150 million in 2005. Fraternity foundations collectively held $534 million in 2010, according to Bloomberg News.
In Washington, they exert influence through FratPAC, the political action committee created with the help of Lott's firm, Squire Patton Boggs LLP, in 2005. FratPAC, as it's known, has lobbied in favor of a multi-million dollar tax break for fraternities and to stifle legislation aimed at curtailing hazing. The group has given $818,000 to political campaigns, primarily to Republicans, reported Bloomberg.
They have plenty of powerful friends in Washington. About 40 percent of U.S. senators and 25 percent of U.S. representatives belonged to fraternities or sororities in college. Some of the alumni participate at FratPAC's annual $500-a-plate dinner in Washington, as recounted by Bloomberg's David Glovin:
"We learned to tap a keg," declared Representative Steven Palazzo, a Mississippi Republican and Sigma Chi brother, who then yelled a cheer as hundreds of FratPAC donors applauded. Many of the legislators also pledged support for FratPAC's pet legislation: a multi-million-dollar tax break to let fraternities and sororities use charitable donations to renovate and help build chapter houses. "This time, we think we can get it done," said Ohio Republican Steve Stivers, a Delta Upsilon alumnus, adding, "We need more Greeks in Congress."
Before it's here, it's on the Bloomberg Terminal.
LEARN MORE