Stephen Colbert Interviews 'Emperor' Obama
The president was a good sport about the jokes about the midterms, immigration and power, though that Pentagon crack seemed to get under his skin.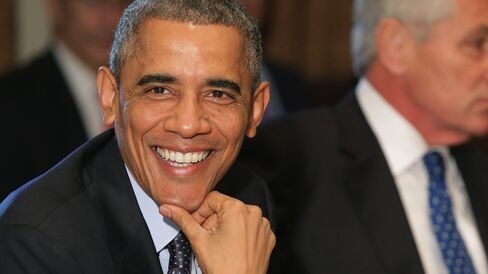 Stephen Colbert summed up President Barack Obama's state of mind by channeling Mel Gibson and Danny Glover: "He's like both guys in 'Lethal Weapon,' okay? He's a crazy renegade with nothing to lose and a black guy who's this close to retirement."
The president didn't really argue.
Obama, who once ordered Gen. Ray Odierno via video hookup to shave Colbert's head before a special troop audience, finally decided to give the Comedy Central comedian the whole enchilada: an in-person guest appearance and interview ahead of the Colbert Report's Dec. 18 finale, after which Colbert moves to CBS to take over for David Letterman.
During the show, which aired Monday night and was taped in the afternoon at George Washington University's Lisner Auditorium before an enthusiastic student audience of more than 1,400, Obama declared that "the best thing America has going for it is immigration."
"You realize you're an emperor now," Colbert countered, dubbing Obama, "Ba-Raucous Maxiumus I."
Maybe Colbert's best joke—certainly the one that appeared to most irritate Obama—turned the president's job creation statistics into a punchline. "I'll give it to you, you've employed a lot of people—mostly as secretary of defense," Colbert quipped. Colbert also called Obama on the fact that as a candidate in 2008, he'd criticized President George W. Bush for having too much executive power.
"You seem to have a whole lot of power," Colbert chided, adding, "Does that happen to every president, where you get into the office and you think 'oh, you know what, I might be the only one I trust with this much power so I'll hold onto it?'"
"For the first time, you're asking a sensible question," Obama said.
Obama didn't use his appearance to break news or set new policy, and Colbert noticeably didn't go down a couple of roads. There was, for instance, no effort to turn the tragedy in Ferguson, Mo., or any of the other recent episodes of racial unrest into presidential comedy. Nor did Colbert bring up reformed-smoker Obama's unplanned trip to the hospital over the weekend for throat pain later diagnosed as acid reflux.
After calling him an emperor, Colbert joked, "I'm a Christian, would you like to throw me to the lions? I would be delicious," and asked Obama why he burned the Constitution with his order on immigration.
Obama's defense was firm: "Everything that we've done was scrupulously within the law." Obama went on to say that the U.S. can't deport 11 million people, "the vast majority of whom are good," and that the focus should be on deporting felons and strengthening the border. "The best thing America has going for it is immigration because every generation, each successive generation, you've seen this wave of smart, striving folks who not only become Americans themselves but create jobs, create businesses."
There were other barbs about Democrats' midterm losses. "Are you still the president after the midterms?" Colbert asked. "That shellacking didn't rattle the presidential seal off your podium?"
"The election didn't go as uh, I'd have liked," Obama said, insisting, "Even in divided government we can still put the American people ahead of politics."
Colbert tried to draw Obama out on what he'll do on Keystone, to no avail. Nor could he get Obama to give him the nuclear codes. In general, Obama rolled with the punches, even laughing and cracking a smile here and there and giving it back to Colbert. His experience months earlier in a "Between Two Ferns" segment with Zach Galifianakis may have served him well.
Before the interview, Obama had appeared onstage as Colbert prepared to do the latest installment of his running rhetorical segment called "The Word," in which the comedian's monologue is paired with written asides on a TV screen, and told Colbert to "get out of the way." Obama renamed the segment "tonight's decree" and then delivered the routine as if he were Colbert. The theme was, "To health in a hand basket," a riff on Obamacare. "The guy is so arrogant I bet he talks about himself in the third person," Obama read, talking about himself. The aside on the screen next to him said, "In between those long pauses." Obama said people liked things about Obamacare. "Everything but the 'Obama,'" read the screen.
Obama told Colbert that while being president is an "incredible privilege," a sitting president doesn't get to think about that because he's thinking about real-time challenges. Another check on his humility, he said, is "When I go home, Michelle, Malia and Sasha give me a hard time. There are no trumpets, and they tease me mercilessly."
Would Obama be remembered as a great president or the greatest president, Colbert deadpanned.
"I think I'm going to let somebody else decide," Obama demurred. "Not you. But…"
http://www.hulu.com/watch/724009
Before it's here, it's on the Bloomberg Terminal.
LEARN MORE