CIA Misled Bush, Congress on Interrogation Tactics, Report Finds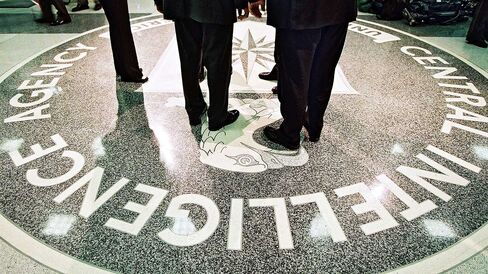 The CIA misled Congress and kept former President George W. Bush in the dark as it conducted interrogations of terror suspects that were far more brutal and less effective than publicly portrayed, according to a report by Democrats on the Senate intelligence committee.
The harsh interrogations weren't effective and didn't produce key information that led to the killing of Osama bin Laden, contrary to claims by program supporters. Policy makers deceived by the CIA included Bush, who based a 2008 speech on inaccurate information that interrogations helped thwart terrorist plots, according to a summary of the 6,000-page report released today in Washington.
"History will judge us by our commitment to a just society governed by laws and the willingness to face an ugly truth and say, 'never again,'" said Senator Dianne Feinstein, a California Democrat and the panel's chairman. In a statement, she said CIA treatment of some detainees amounted to torture.
At least 26 detainees didn't meet the standards for being held, according to the report. In the fall of 2002, a detainee died of hypothermia while shackled to a concrete floor. Another detainee was held for 17 days in the dark without anybody knowing he was there.
One detainee was left handcuffed by his wrists to an overhead bar for 22 hours over two consecutive days, the report said. At least five CIA detainees were subjected to what the report called "rectal rehydration" or rectal feeding without medical necessity.
$40 Million
The final report, which cost $40 million and took six years to complete, is the most comprehensive assessment of the CIA's so-called black site detention facilities and "enhanced interrogation techniques" on at least 119 terrorism suspects following the attacks of Sept. 11, 2001.
The report's release has renewed debate about the Central Intelligence Agency's tactics and prompted warnings of possible reprisals against Americans or U.S. facilities abroad. President Barack Obama ordered a stop to the program when he took office in 2009 and supported the report's release.
Obama said today that the contents of the report show that the enhanced interrogation techniques are counterproductive to larger national security goals.
"The report documents a troubling program," Obama said in a written statement. "It reinforces my long-held view that these harsh methods were not only inconsistent with our values as nation, they did not serve our broader counterterrorism efforts or our national security interests."
'Thwart Attacks'
CIA Director John Brennan said today the program had "shortcomings" and that the agency made mistakes in the rush to gather intelligence after Sept. 11. But he disputed that interrogations didn't produce useful information or that the agency intentionally misled Congress or the White House.
The CIA's efforts "helped thwart attack plans, capture terrorists, and save lives," Brennan said in a statement. He said the report lacked "valuable context" because committee staff didn't interview the CIA officers involved.
Contrary to claims by the agency, the brutal methods didn't lead U.S. officials to the identity of bin Laden's courier, Abu Ahmed al-Kuwaiti, a finding that helped uncover the al-Qaeda leader's location, according to the report.
The interrogation of terrorism suspect Abu Zubaydah, who was waterboarded at least 83 times, was more brutal than previously known. At one point, he was put in a 1 1/2 meter box and was knocked unconscious during a waterboarding session during which water and bubbles poured from his mouth, according to the summary. Other detainees with broken legs and feet were inappropriately forced to sit in stress positions.
20 Cases
The committee reviewed 20 of the most frequent and prominent examples of interrogation cases that the CIA claimed produced valuable information. None of the cases showed that information was obtained that saved lives or that couldn't have been gleaned from other means, according to the findings.
Instead, the panel found that the CIA used interrogation techniques that differed significantly from those authorized by the Department of Justice and described to U.S. policy makers and lawmakers, according to the summary.
CIA and Justice Department officials discussed ways to get around the criminal prohibition on torture, the report said. According to a CIA cable, Justice officials said the law would not apply because of the absence of any specific intent to inflict severe physical or mental pain or suffering.
Misleading and inaccurate information was provided to Bush that interrogations helped thwart terrorist plots, such as flying passenger planes into the Liberty Tower in Los Angeles and an airport and buildings in London, the report said. Bush used that information for a 2008 speech.
Bush, Cheney
"The statement reflected inaccurate information provided by the CIA to the president and other policymakers in CIA briefings," the report states.
Bush and the full Senate intelligence committee weren't briefed on the techniques until 2006. Some members, including Feinstein and Senator John McCain, the Arizona Republican, raised objections. However, the CIA then turned around and informed the Justice Department's Office of Legal Counsel in a classified setting that no senators had objected.
The panel learned that former Vice President Dick Cheney was in meetings where the tactics were discussed.
Democrats on the Senate intelligence committee released the findings over the objections of current and former U.S. officials including Bush and warnings that Americans would face retaliation overseas.
Diplomatic Lapses
"I don't believe that any other nation would go to the lengths the United States does to bare its soul, admit mistakes when they are made and learn from those mistakes," Director of National Intelligence James R. Clapper said in a message to intelligence community workers. "Certainly, no one can imagine such an effort by any of the adversaries we face today."
The CIA blocked State Department leaders from access to information "crucial to foreign policy decision-making and diplomatic activities," the report said. Two secretaries of state weren't told about the locations of CIA detention facilities, despite the diplomatic implications.
"In two countries, U.S. ambassadors were informed of plans to establish a CIA detention site in the countries where they were serving after the CIA had already entered into agreements with the countries to host the detention sites," it said.
Secretary of State John Kerry supports releasing the findings, State Department spokeswoman Jen Psaki told reporters yesterday. Kerry discussed the implications of the release in a phone call with Feinstein and said it was up to her to decide when to do so, Psaki said.
Rubio, Risch
Republicans and former Bush administration officials who ran the program condemned the report in advance as a biased attempt to rewrite history. They say the interrogations produced significant intelligence that helped capture terrorists and protect the country.
"There's no reason to have released this report except for the pure partisan joy of embarrassing the Bush administration," Republican Senator Marco Rubio of Florida told reporters today.
Rubio and Jim Risch of Idaho, both members of the committee, criticized the report yesterday as "one-sided" and faulted Democrats on the panel for releasing it.
Releasing the findings will give terrorists fresh ammunition to escalate their violence and put the lives of additional U.S. officials and allies at risk, said Representative Mike Rogers, a Michigan Republican and chairman of the House intelligence committee.
'Torture's Wrong'
"All they've got to do is find something they think indicates something and they'll use it for their propaganda machine," Rogers said yesterday at a meeting of Bloomberg Government reporters and editors. "Why are we going to risk the lives of some diplomat, for what?"
Senate Democrats fired back against such warnings.
"The implications of this report are profound –- not only is torture wrong, but it doesn't work," Senate Majority Leader Harry Reid, of Nevada, said on the Senate floor today. "The only way our country can put this episode in the past is to come to terms with what happened and commit to ensuring it will never happen again."
The eight Democratic members of the intelligence committee, as well as Michigan Democrat Carl Levin, an ex officio member as chairman of the Senate Armed Services Committee, wrote Clapper to "memorialize" what they said is his support for releasing the report in a Dec. 6 phone call with them, according to a U.S. official who's read the letter.
Potential Damage
"There will never be an 'elegant' time to release this study, as it describes in stark detail the detention and interrogation actions of the CIA," the letter said, according to the U.S. official. "As such, you believe it is better to release the report now so that the intelligence community can begin to move past this chapter of its history."
Some Democrats and human-rights activists have hailed the report for finally exposing flaws and possible crimes in the CIA's rendition, detention and interrogation program, which largely operated from 2002 to 2005.
White House officials this morning briefed former intelligence and counterterrorism officials who are prepared to defend the report's release on television and elsewhere.
U.S. officials are bracing for international blowback that could fuel riots and retaliation in countries hostile to the U.S. The Defense Department warned U.S. commands overseas on Dec. 5 to take appropriate force protection measures in anticipation of the findings release, and the State Department and U.S. intelligence agencies have directed overseas posts and personnel to review and in some cases bolster their security.
The report appears to be "way off-base," Bush said in an interview Dec. 7 on CNN's "State of the Union."
"We're fortunate to have men and women who work hard at the CIA serving on our behalf," Bush said. "These are patriots. And whatever the report says, if it diminishes their contributions to our country, it is way off base." Others who are part of the campaign include Bush's former CIA directors George Tenet and Michael Hayden.
Before it's here, it's on the Bloomberg Terminal.
LEARN MORE