Bush White House Was Worried Colin Powell Would 'Blow His Stack' If Briefed on Torture
The briefings didn't take place until the year after 'enhanced interrogations' began.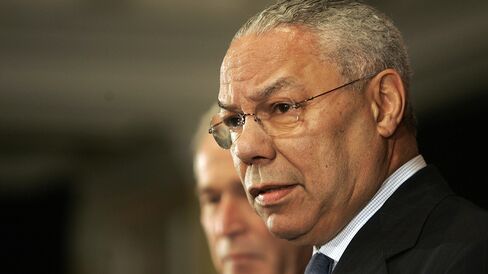 The Bush White House didn't brief then-Secretary of State Colin Powell about the specifics of the CIA's interrogation program until September 2003 because it was worried Powell would "blow his stack" if he found out what was going on, according to the report released Tuesday by the Senate Intelligence Committee.
According to a July 2003 email, the official reason the National Security Council didn't have a full briefing on the program at that time was to "avoid press disclosures." But unofficially, the email said, "it is clear to us from some of the runup meetings we had with [White House] counsel that the [White House] is extremely concerned [Secretary of State] Powell would blow his stack if he were to be briefed on what's been going on."
National Security Advisor Condoleezza Rice decided later that Powell, along with Defense Secretary Donald Rumsfeld, should in fact be briefed on the program. Both were briefed for 25 minutes on Sept. 16, 2003. The CIA started using what it called "enhanced interrogation" tactics in 2002.
According to the report, the CIA provided "extensive amounts of inaccurate and incomplete information" about its operations and their effectiveness during several briefings and statements to Congress, the public and in response to questions from the White House.
The report also revealed that President George W. Bush was briefed by "no CIA officer, up to and including CIA Directors George Tenet and Porter Goss … before April 2006," two and a half years after Powell and Rumsfeld.
Before it's here, it's on the Bloomberg Terminal.
LEARN MORE