Democrats Spent Big in Secret Effort to Elect Kansas Independent Greg Orman
A month after the races ended, big-money super-PACs report their last-minute donors and spending.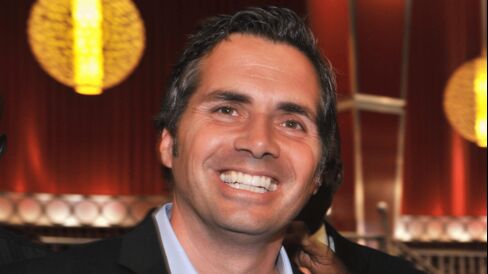 It's been more than a month since the Nov. 4 election, but we're only just now finding out about some of the biggest campaign donations, including a previously undisclosed spending blitz by Democrats to try and elect Kansas independent Greg Orman.
Any political contributions to national party committees and super-PACs made on or after Oct. 16 didn't have to be disclosed until Thursday. The long delay between the late contributions and public disclosure creates an opportunity for mischief and a chance to move big money because super-PACs can raise funds in unlimited amounts to pay for ads independently supporting or attacking candidates.
Here's a look at how and where some of that late money moved:

Hidden Democrats
Senate Majority PAC, a Democratic super-PAC run by former political advisers to Majority Leader Harry Reid, sent about $1.5 million to two super-PACs that promoted businessman Greg Orman, who was running as an independent and refused to identify with which party he would caucus. Orman was ultimately unsuccessful in his campaign to unseat Republican incumbent Pat Roberts.
Senate Majority PAC sent $1.31 million to Committee to Elect an Independent Senate in five installments beginning on (you guessed it) Oct. 16, the start of the veiled disclosure period. The Reid-aligned PAC also sent $151,000 on Nov. 3-4 to Kansans Support Problem Solvers, which also backed Orman.
Orman and Democratic groups kept each other at arm's length, at least publicly, in a state that has a generic Republican lean. Self-inflicted wounds by Roberts and his rusty campaign operation contributed to the senator's vulnerability. Roberts wound up winning by an unexpectedly large margin of 10 percentage points after overhauling his campaign team, sharpening his campaign message around opposition to President Barack Obama and Reid, and riding the Republican wave.
Committee to Elect an Independent Senate also received $1 million from Michael Bloomberg, the former New York City mayor who is the founder and majority owner of Bloomberg Politics parent company Bloomberg LP.
Koch Cash
Charles Koch, the billionaire chairman and chief executive officer of Koch Industries, sent $3 million through a trust to Freedom Partners Action Fund, a Republican super-PAC that he and his brother David have helped underwrite. That was the largest donation the super-PAC received from Oct. 16 to Nov. 24. The group played in about a dozen races, including Senate contests in Arkansas and Iowa that Republicans won.
Ricketts PAC
Ameritrade founder Joe Ricketts put another $1.25 million into Ending Spending Action Fund, a Republican super-PAC he founded. His wife Marlene gave $1 million. The billionaire investment executive Paul Singer threw in another $750,000. Ending Spending Action Fund helped Republican David Perdue win a Senate election in Georgia and is still working to unseat Democratic Senator Mary Landrieu in a runoff Saturday in Louisiana.
Senate Majority PAC
The super-PAC that tried to save the Democratic majority raised $13.5 million from Oct. 16 to Nov. 24, led by $3 million from James H. Simons, the billionaire founder of hedge fund company Renaissance Technologies. Senate Majority PAC took in $1.65 million from the Council for Job Growth, which promotes a comprehensive rewrite of immigration laws; and $1 million from George M. Marcus, a real-estate developer from Palo Alto, Calif.
Bankers Battle Landrieu
A 501(c)(4) nonprofit arm of the American Bankers Association sent $70,000 to a super-PAC that's working to unseat Landrieu. The contribution to the Keep Louisiana Working (KLW) Political Fund from the Financial Education and Advocacy Initiative, which the ABA created in 2012 to "maximize the impact of the banking industry" and provide "another way for bankers to participate in the election process and increase our presence in Washington." Read Robert Schmidt and Phil Mattingly's 2012 Bloomberg News story about how and why the banking trade group set up the political fund. Tim Dunn, a Texas oil and gas developer, gave $50,000 to the anti-Landrieu super-PAC.
West Virginia Wave
Republicans won control of the state legislature with help from $1.2 million in late donations to the super-PAC Grow WV Inc., whose biggest donors included the U.S. Chamber of Commerce's legal-reform arm ($450,000) and the Republican State Leadership Committee ($220,000). The latter group helped flip Democratic-led legislatures to Republican control. Representative Shelley Moore Capito sent $50,000 in campaign funds to Grow WV on Oct. 17, when she was coasting to victory in a Senate election.
Before it's here, it's on the Bloomberg Terminal.
LEARN MORE