Obama, New York Politicians Respond to Eric Garner Decision
Within moments of the grand jury decision not to file criminal charges against the white police officer in the choking death of Eric Garner several public officials spoke out.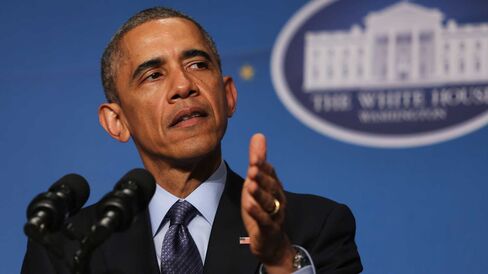 The news that the NYPD officer who put Eric Garner in a deadly chokehold won't be indicted has spurred comments from President Obama, New York's congressional delegation and senators, and local politicians.
The responses have ranged from Obama saying that he's "not interested in talk, I'm interest in action," to both New York senators calling for an immediate review of the decision by the U.S. Justice Department. The Justice Department has said it is planning on conducting a civil-rights review of Garner's death.
Here's a list of how state and federal officials have responded.
Mayor Bill de Blasio
During a press conference Wednesday evening, Mayor de Blasio said he has spoken with Attorney General Eric Holder and the nominee to replace him, Loretta Lynch. "The federal government is clearly engaged and poised to act," de Blasio said. The mayor also emphasized the work he and Police Commissioner Bill Bratton have done to retrain officers and introduce reforms like body cameras.
On a more personal note, de Blasio discussed the racial dynamics that people of color, especially young men, experience day to day. "Black lives matter," he said. "It's a phrase that never should have to be said. But it does have to be said." The mayor said that he and his wife have "had to talk to [their son] Dante for years about the dangers he may face," due to those dynamics.
De Blasio urged protesters to respect the wishes of the Garner family and engage in non-violent protest. "If you really want to honor the life of Eric Garner, you will do so through peaceful protest," de Blasio said.
Senators Kirsten Gillibrand and Chuck Schumer
Gillibrand released a statement Wednesday saying she was "shocked" by the decision and intends to call on a review from the Justice Department.
While this decision is shocking, I want to echo the statement of a wide range of leaders inside and outside of government who are urging that protests remain peaceful in the aftermath of this decision. The death of Eric Garner is a tragedy that demands accountability. Nobody unarmed should die on a New York City street corner for suspected low-level offenses. I'm shocked by this grand jury decision, and will be calling on the Department of Justice to investigate.
Senator Schumer also called for a review from the Justice Department:
https://twitter.com/SenSchumer/status/540256487734784001
New York's Congressional Delegation
Several lawmakers from New York's congressional delegation held a joint press conference to condemn the grand jury's verdict and demand a review from the Justice Department.
Representative Hakeem Jeffries said the decision is "a miscarriage of justice, it's a disgrace, it's an outrage, it's a blow to our democracy, and it should shock the conscience of every single American who cares about justice and fair play." He went on to detail the evidence for a trial: Garner was put in an illegal chokehold, the medical examiner ruled his death a homicide, and he begged for his life on video.
"Eric Garner did not deserve to die," Jeffries said.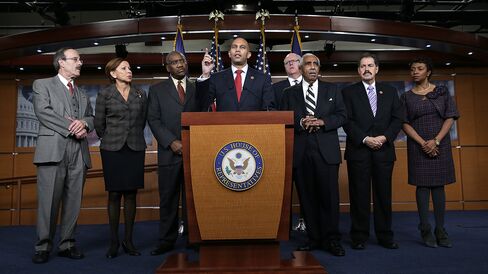 Representative Rangel added that this should show people that having a black president hasn't changed race relations in America. He said that people have to realize that "the color of one's skin depends on how their future lives are going to be or whether or not they're going to live at all," and electing black officials alone won't fix that.
Representative Michael Grimm, the Staten Island Republican best known for threatening to throw a reporter off a balcony, was not at the press conference, and praised the integrity of the panel in a statement.
There's no question that this grand jury had an immensely difficult task before them, but I have full faith that their judgment was fair and reasoned and I applaud DA Donovan for overseeing this case with the utmost integrity. As we all pray for the Garner family, I hope that we can now move forward and begin to heal together as a community.
Representative Pete King thanked the grand jury for not "yielding to outside pressure."
https://twitter.com/RepPeteKing/status/540251527957708801
President Obama
President Obama said that it's his job to ensure everyone is equal before the law. "When anybody in this country is not being treated equally under the law, that's a problem, and it's my job as president to try to solve it," he said. "We are seeing too many incidences where people just do not have confidence folks are being treated fairly."
Governor Andrew Cuomo
Governor Cuomo called Garner's death tragic, but emphasized that those who disagree with the decision should "respect the legal process and rule of law." He was one of the few politicians to not aggressively call for the Justice Department to investigate—instead he said "it may be appropriate for the federal government to do so in this case."
https://twitter.com/TheAPJournalist/status/540278906478018560
Before it's here, it's on the Bloomberg Terminal.
LEARN MORE