Obama Nominees Hit Traffic as Democratic Senate Packs Its Bags
It's not just the calendar that's a problem. They also have to reckon with Senator Ted Cruz.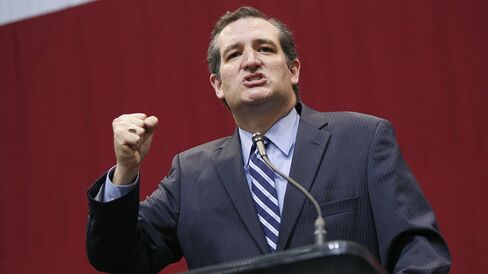 Senate Republicans have pledged to break through Washington's political gridlock when they take control of the chamber in January. In the meantime, however, there's the outstanding issue of whether to confirm more than 130 of President Barack Obama's nominees, and the seething anger of Senator Ted Cruz, who has vowed to block them.
After getting clobbered in the midterm elections, the soon-to-be-exiled Senate Democratic majority is scrambling to push through languishing nominations by Obama for a host of positions, from judges to ambassadors. It's a project that would be hard in ordinary times, and is now made exponentially harder given the titanic partisan shift created when voters delivered full control of Congress to Republicans. Even Federal Reserve Chair Janet Yellen, who was confirmed in a relatively lightning fast three months this past January, hasn't been immune to the political whims of Washington. The Senate still hasn't gotten around to confirming her 2013 nomination as a U.S. alternate governor of the International Monetary Fund. (Granted, an alternate governor to the IMF doesn't carry the same cachet or clout as leading the U.S. central bank.)
As of Tuesday, there were 133 prospective Obama appointees pending on the Senate's executive calendar, which is a catalog of treaties and nominations that are ready for consideration on the floor. This doesn't include dozens of other would-be government workers whose appointments are in the possession of the committee with jurisdiction and haven't yet been forwarded to the Senate floor.
"We have scores. We are approaching, counting judges and all of the nominations, well over 150 who have been held up, people who have been waiting and waiting. These are jobs that are needed in our country; these are not new positions we have created," outgoing Majority Leader Harry Reid said on the floor of the Senate two weeks after his party lost control of the chamber in the midterm elections. "So, I would hope we can get past the bitterness that has been created in this body and get the nominations done."
While Democrats have political reasons to advance nominations before the Republicans take the reins, as a general rule, "the door on confirmations generally slams shut after the midterm, if not before," said Paul Light, a professor of public service at NYU Wagner. Obama's picks for the federal judiciary may take priority because they're lifetime appointments, though other nominees just won't get floor time before Congress leaves for its holiday break. "If you're an assistant secretary for planning and evaluation at the department of nowhere, you're not going to get confirmed," Light said.
Also on Bloomberg Politics: John McCain Fights, Loses Good Fight Against Bundler-Ambassadors
Many nominees wait months or even years to get a floor vote, irking good-government advocates who say the Senate needs to update its rules for vetting White House nominees. A coalition of liberal groups on Monday urged Reid and Minority Leader Mitch McConnell, the Kentucky Republican who will take over the chamber next year, to "use as much time as is needed this Congress to give votes to the hundred-plus pending nominations." Fifty-four of the 133 nominations on the executive calendar have been on that list since before June. Some of them were first nominated in 2013 or earlier. Under Senate rules, nominations not acted upon by the Senate are returned to the president after a new session of Congress convenes.
Given the huge number of presidential nominations, the Senate sometimes will approve multiple appointees at one time without objection—although Republicans are threatening to slow the process down during the lame-duck session. A Republican-led Senate next year will consider Obama's choices of Loretta Lynch for attorney general and the expected successor for Defense Secretary Chuck Hagel, Pentagon official Ashton Carter.
Also on Bloomberg Politics: Is Ted Cruz Right About the Entire World Being 'on Fire'? Let's Find Out!
Cruz has said the new Republican majority should block most of Obama's picks as a punishment for his executive action on immigration. McConnell "should announce if the president implements this lawless amnesty, that the Senate will not confirm any executive or judicial nominees, other than vital national security positions, for the next two years, unless and until the president ends this lawless amnesty," Cruz told Fox News Sunday in late November.
The stalled nominees come in all stripes. Many of them fall into three broad areas.
One pool could be dubbed the regulators. There are five nominees to Environmental Protection Agency posts awaiting floor action, including four assistant administrators and a chief financial officer. Ken Kopocis, an EPA official nominated to lead its water office, was originally picked for the position back in June 2011—meaning that he's been in limbo for more than 1,250 days. Some Republicans concerned about the EPA's regulatory reach have stalled his nomination.
Seven nominees for Energy Department posts are awaiting floor action, including Franklin Orr Jr., Obama's choice to be undersecretary for science. He was a founding director of the Global Climate and Energy Project at Stanford from 2002 to 2008 before becoming director of the Precourt Institute for Energy at Stanford University. He was originally nominated in November 2013. The Senate planned Wednesday to hold a procedural vote on Orr's nomination.
"Obstruction shouldn't hamstring the EPA and other agencies from doing their jobs protecting public health," Matt McKnight, the congressional champions project director at the League of Conservation Voters, said in an e-mail. "There are many qualified nominees waiting for confirmation to positions throughout the administration that are currently vacant or not operating at full capacity."
The Senate on Tuesday did approve nominations for deputy secretary of the department of Housing and Urban Development and a commissioner to the Consumer Product Safety Commission, while advancing two nominations to the Equal Employment Opportunity Commission. Nani Coloretti, Obama's choice for HUD deputy secretary, was nominated back in March.
Also on Bloomberg Politics: Obama Defense Pick Ashton Carter May Inherit Pentagon Policy Friction
Another batch of nominees are prospective ambassadors and international-relations officials. Voting along party lines, the Senate on Tuesday approved Obama's proposed ambassadors to Argentina and Hungary. Noah Mamet, Obama's choice for Argentina, and Colleen Bell, the president's pick for Hungary, were both so-called bundlers raising more than $500,000 for Obama's re-election campaign in 2012. It's a longstanding presidential practice to pick political fundraisers for some ambassadorships.
Another Obama bundler, George Tsunis, seems less likely to win confirmation (much less a vote) for ambassador to Norway. In June, members of Congress from both parties called on Obama to withdraw the nomination, saying Tsunis showed an "embarrassing lack of knowledge of Norway" in testimony before the Senate Foreign Relations Committee hearing in January. Tsunis said he had never been to Norway, described one of the nation's ruling parties as a "fringe element," and referred to its prime minister as a president. His performance was mocked by CNN's Anderson Cooper and others. Minnesota Democratic Senators Al Franken and Amy Klobuchar, whose state includes a big Norwegian-American community, oppose the nomination.
But even career diplomats can face long waits for confirmation. The Senate has been whittling down that list in the past few months, including in the lame-duck session, though some nominees have been waiting for months. Arnold Chacon, Obama's pick for director general of the Foreign Service, was nominated for that post more than a year ago.
"We applaud the recent work done by the Senate to confirm career nominees, many of whom have been waiting over a year," Kristen Fernekes, communications director at the American Foreign Service Association, said in an e-mail. "Ambassadors, as the President's representative in their country of assignment, play a crucial role to assuring that our national interests (security, economic, strategic) are protected. We believe that the signal sent to our overseas partners by failing to address these openings and fill them with qualified individuals is extremely detrimental."
Finally, there are the judges. Judicial vacancies are a perennial cause of concern for court-watchers as caseloads clog federal dockets. About two dozen of the 133 nominations on the executive calendar are for judges, including 15 who would receive lifetime tenure on federal district courts. The Senate scheduled votes Wednesday on three of those judges.
Even some Republicans aren't happy with the backlog that's been building in the judicial ranks. "I therefore encourage the President and Congress to be especially attentive to the needs of the Judicial Branch and provide the resources necessary for its operations. Those vital resource needs include the appointment of an adequate number of judges to keep current on pending cases," Chief Justice John Roberts said in his annual year-end report in 2012, an update that focused on the cost-cutting measures the court system had already taken to comply with a shrinking federal budget. "I urge the Executive and Legislative Branches to act diligently in nominating and confirming highly qualified candidates" to fill judicial vacancies, he said.
Before it's here, it's on the Bloomberg Terminal.
LEARN MORE