Jeb Bush Seeks to Sharpen Foreign-Policy Profile as 2016 Speculation Ramps Up
His back-to-back domestic- and foreign-policy speeches generate buzz that he'll run.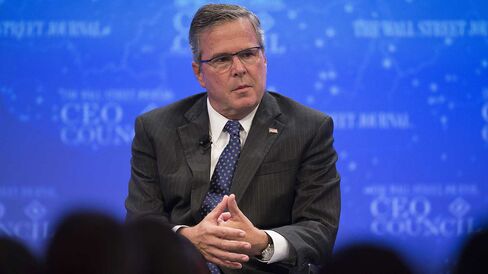 Potential 2016 presidential candidate Jeb Bush waded into foreign-policy waters on Tuesday, calling for a stronger Cuba embargo, criticizing the president on the rise of the Islamic State, and at times sounding similar notes to his brother, former President George W. Bush, in a speech to U.S. Cuba Democracy PAC donors in Florida.
"I think the United States needs to lead—lead with humility, lead with respect, but lead," said Bush, the former governor of the Sunshine State, according to the Miami Herald.
This isn't the first time this fall that the Republican has dinged President Barack Obama on his handling of turmoil in the Middle East. But as the newspaper noted, the speech followed another address on domestic policy in Washington, and "many of those who attended Tuesday's event said Bush's back-to-back policy addresses were the clearest sign yet that he intends to run for president."
"Presidents need to set United States aspirations and intentions where there is little gap between words and deeds," Bush said, according to the newspaper. "Think of the Russian reset. Think of the Syrian red line. Think of the pivot to Asia. Think of taking out ISIS."
He leads the pack of potential Republican presidential contenders in a scenario where 2012 nominee Mitt Romney doesn't run, according to a CNN/ORC International poll published Tuesday. Bush drew 14 percent, followed by former neurosurgeon and conservative activist Ben Carson at 11 percent.
Before it's here, it's on the Bloomberg Terminal.
LEARN MORE