Police Shot Tamir Rice Immediately, Despite Warning Gun Was 'Probably Fake'
A video released by police shows an officer firing twice on the 12-year-old within 1.5 seconds of his stepping out of the squad car.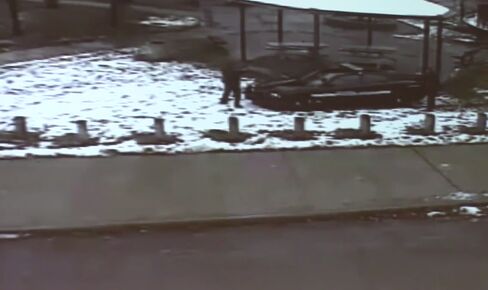 It happened in the blink of an eye. A video released Wednesday shows a rookie Cleveland police officer shooting and killing a 12-year-old boy immediately after his police squad car arrived at a park.
The boy, Tamir Rice, had been playing with a toy airsoft gun, which fires small plastic pellets, prompting a local resident to call 911, though the caller twice noted to the dispatcher that the gun was "probably fake," the Cleveland Plain Dealer reported.
The shooting has prompted two nights of protests in Cleveland, with many protesters noting that Tamir was black and the rookie officer, Timothy Loehman is white, and linking the incident to the shooting death of Michael Brown in Ferguson, Mo.
In the video, released by Cleveland police, the Loehman, 26, jumped out of the squad car's passenger-side door and fired two shots at the boy within 1.5 seconds of the squad car's arrival at Cudell Recreation Center at 3:30 p.m. Saturday.
https://www.youtube.com/watch?v=7Z8qNUWekWE
The officers were responding to a 911 call of a "guy with a gun pointing it at people," but the caller also noted that the weapon was "probably fake" and that the suspect was "probably a juvenile."
https://api.soundcloud.com/tracks/178210581
According to deputy chief Ed Tomba, the responding officers issued warnings to the boy as the squad car approached, clevescene.com reported.
"Three commands were given to show your hands by Officer Loehman," Tomba said. "[The commands came] out the door...as they pulled up."
After being shown the video, which does not contain audio, the Rice family requested that it be made public.
Before it's here, it's on the Bloomberg Terminal.
LEARN MORE