#Ferguson Protests at the Supreme Court and Around Washington, D.C.
Hundreds of people march after midnight in D.C. to protest the Michael Brown grand jury decision.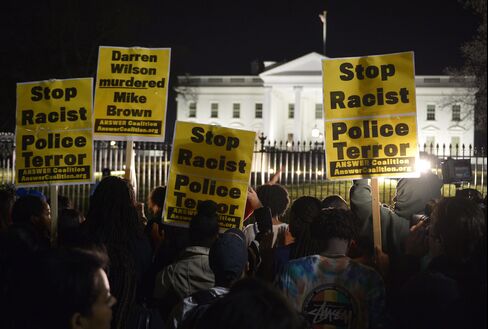 Early Tuesday morning, a few hours after a Missouri grand jury had returned no indictment in the killing of Ferguson teenager Michael Brown, several hundred protesters occupied the steps of the U.S. Supreme Court. They held the area as a ring of security guards and police officers watched; they chanted "Hands up, don't shoot!" as stragglers, largely black but increasingly diverse, arrived to fill out the scene.
Ninety minutes earlier, most of these protesters had been gathering outside the White House. The reaction to the Ferguson decision, which was not unexpected, was organized via a Twitter hashtag—#DCFerguson. Shortly after 9:20 p.m. eastern time, scores of students from Washington's historically black Howard University were heading to the White House via the African American Civil War Memorial, which is between the campus and a metro stop. Dozens more people were organized by local protest mainstays like ANSWER (Act Now to Stop War and Racism), a far-left group whose black-on-yellow "JUSTICE FOR MIKE BROWN" signs were ideally designed for photojournalists. Medea Benjamin, the omnipresent Code Pink activist, paced around the crowds while talking on a cell phone.
It took a while for a real scene to cohere. Only by 10:45 p.m. was the crowd substantial enough for the additional security guards lined up against the infamous White House fence to look necessary. As larger crowds gathered and chanted—"Hands up, don't shoot!" and "The people, united, will never be divided!"—smaller cells of people stood in front of the White House to give four and a have minutes of silence in Brown's memory, which the dead teen's family had asked for.
"We're gonna shut down the H street Wal-Mart," said an ANSWER organizer into a bullhorn, announcing some possible protest locations. "We're gonna shut down the Justice Department. If you're really about a movement, not a moment, you should be down with that."
The students, meanwhile, had cohered in their own circles, chanting their own slogans. Some stragglers carried slogans like "Black Lives Matter" scrawled in sharpie on brown cardboard. Off to the side, a 30-year old black resident of Washington's southeast, the poorest and blackest part of the city, remarked on how the protest looked like "a fun thing for college kids to do." He contrasted it to what happened when he'd protested another police shooting at the White House, when fewer cameras were capturing it.
"I got a gun in my face out here," said the skeptic, Philip Brown. "They followed us down there, put the gun to my head, and asked, why are you out here?" A student wearing a "Justice in Palestine" strolled by to join the protests. Brown, wearing an Iron Man T-shirt and Redskins cap, shook his head and said that the media did not get to see how bad police-community relations were in southeast. "It's the worst, man. Around here, you see how nice it is. It's in southeast where people get beat down."
The crowd kept growing, and the people who left satisfied after a round of "Lift Every Voice and Sing" were replaced by larger numbers of straggling students. There would be no rowdiness. Shortly before midnight, a man with a grey sweatshirt hood pulled to meet his black face mask tried to start an anti-police chant. He was immediately shouted down.
"Y'all ain't gonna get us shot!" said Kenya Moore, a student wearing a Howard University sweatsuit.
Moore had wound up standing next to Olivia Pearson, a fellow student, and the two of them quickly turned with the crowd as organizers started moving it east, toward Washington's Chinatown. The total failure of an agitator to move the crowd was inspiring; still, why was he even there?
"Some of the people who are in the crowd, it's like: Are you really supportive of this young man whose life was taken?" asked Pearson. "Or are you just mocking us?"
The crowd, numbering in the hundreds, moved down New York Avenue, a main artery of the city that, on a weekend night, would be busy with movie-goers and sports fans and partiers. It was mostly empty at midnight on Sunday. Every few blocks, organizers would slow, and a crew of protesters would sit to allow the "tail" of the protest to catch up. When they bunched up at the orientalist "Friendship Archway," a wild-maned white protester, carrying an ink drawing of Michael Brown, flipped his middle finger at police officers and yelled at them for being "on the wrong side of history." Philip Brown eyed him skeptically as the cops ignored him.
"If he was black," said Brown, "that'd be a different dynamic."
The crowd redirected toward the Capitol, half a mile away. Police officers kept marking off the route, moving traffic; an unfortunate few drivers who'd crossed the protest's path ended up stalled as protesters stood in front of them, hands up, as if they were facing down oppressors. The driver at the head of the column, a black woman, looked exasperated as she dialed her phone.
"I'm sorry, but we're doing it for you!" said Jevon Myles, a 27-year old computer programmer. As he walked toward the Capitol, Myles talked about being pulled over by police when he'd made a right turn without signaling—"how often do they pull anybody over for that?"—and how he evaded real trouble by placing a call to his uncle. He was lucky; he was related to a cop, who could talk him through a routine stop.
"Not many people can do that, you know?" said Myles, walking with the crowd. He mused about how peaceful the protest had been. "On CNN and all the other networks, they're gonna show people burning things or flipping over a car. I hope they noticed that the video they had? Of the people flipping the car? Those weren't black people doing that!" He sighed. "But they're gonna cover that before they cover anything like this. Peaceful."
The protest quickly reached the Capitol, covered in scaffolding and blocked by a large retinue of guards. It moved like one organism over to the less-guarded Supreme Court—not that the protesters wanted access, just proximity. They could climb most of the steps of the court to close out their march.
That was where they finished, chanting "Whose house? Our house!" at the offices of the branch of government that no one got to elect directly. They listened to a speech from someone who'd found a microphone.
"Obama says, 'I support Trayvon Martin's parents, I support Michael Brown's parents,'" said the speaker. "He should support us. He sent us a cease and desist. He should say, this is wrong!"
Before it's here, it's on the Bloomberg Terminal.
LEARN MORE