Darren Wilson Has Clean Conscience About Killing Unarmed Man
The Ferguson police officer gives his first post-shooting interview to ABC News.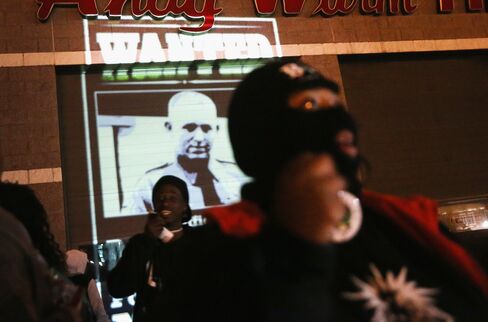 Ferguson police officer Darren Wilson has come out of hiding. The 28-year-old, who will not face charges in the shooting death of 18-year-old Michael Brown, has given an hour-long interview to ABC News' George Stephanopoulos hours after Ferguson and other U.S. cities erupted in violent protests in the wake of grand jury decision.
During their conversation, Stephanopoulos says Wilson said he was sorry about killing Brown, but had no choice.
"He says he did what he was trained to do," Stephanopoulus said of the interview. "He has a clean conscience over his actions that day."
Stephanopoulos announced Tuesday via his Twitter account that he had landed the interview.
https://twitter.com/GStephanopoulos/status/537316844752109568
Wilson's account of the altercation that he says led him to shoot and kill Brown was released by St. Louis County Prosecuting Attorney Bob McCulloch's office Monday night. Critics, such as CNN legal analyst Sunny Hostin, has termed Wilson's version of events "fanciful and not credible," and blasted McCulloch for what she believed to be his "softball" questions during cross-examination.
According to Wilson's testimony, Brown, who had just committed a robbery, cursed at Wilson after being asked to get out of the center of the street, then proceeded to attack Wilson in his squad car, before Wilson could secure his gun and get two shots off. After initially fleeing, Wilson said, Brown then turned and charged the officer while appearing to reach under his shirt for a possible weapon.
Brown turned out to be unarmed. Here's how Wilson put it before the grand jury:
When he stopped, he turned, looked at me, made like a grunting noise and had the most intense, aggressive face I've ever seen on a person. When he looked at me, he then did like the hop...you know, like people do to start running. And, he started running at me. During his first stride, he took his right hand put it under his shirt into his waistband. And I ordered him to stop and get on the ground again. He didn't. I fired multiple shots. After I fired the multiple shots, I paused a second, yelled at him to get on the ground again, he was still in the same state. Still charging, hand still in his waistband, hadn't slowed down.
Photographs included in the testimony showed slight swelling and redness on Wilson's cheek. In his remarks before the grand jury, Wilson said he had sustained his injuries during Brown's attack.
I felt another one of those punches in my face would knock me out or worse. I mean, it was, he's obviously bigger than I was, and stronger, and the—I've already taken two to the face, and I don't think I would—the third one could be fatal if he hit me right.
In a statement released after learning he would not be charged with a crime, Wilson's lawyers said that their client had received death threats, but had also received an outpouring of support.
Officer Wilson would like to thank those who have stood by his side throughout the process. This continued support is greatly appreciated by Officer Wilson and his family. Moving forward, any commentary on this matter will be done in the appropriate venue and not through the media.
Brown's name was not mentioned in the statement.
Speaking to the Daily Mail, a relative of Wilson's who wished to remain anonymous said the decision to shoot Brown boiled down to a simple calculus of survival.
"Darren shot Michael Brown that day because he was in fear of his life. It was Michael Brown or him," the relative said. "He shot him and he got to go home that day. The grand jury made the right decision. Darren did the right thing. He acted like a cop. What was he supposed to do? It was him or Michael Brown. I'm glad it was Darren who went home that night."
Before it's here, it's on the Bloomberg Terminal.
LEARN MORE