'Emperor' Obama's Executive Action Is Getting Traction
A Hart poll shows likely 2016 voters like what Obama just did on immigration--and think Republicans should back off.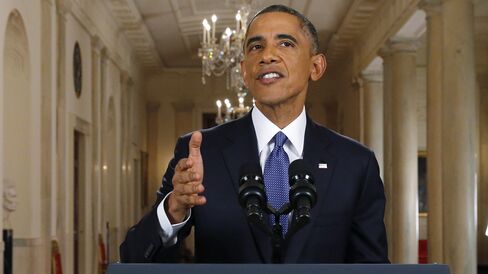 Two polls out Monday show that voters are on board with President Barack Obama's executive action on immigration.
By a 39-point margin--67 percent compared with 28 percent--likely 2016 voters view favorably the plan Obama announced last week, according to a Hart Executive Research Associates survey conducted for Americans United for Change, a pro-Democratic group. The surveyors described Obama's action as one that "would focus immigration enforcement efforts on threats to national security while allowing some illegal immigrants to stay and work in the United States."
Latino voters are even happier with the president. Nearly 90 percent support Obama's executive actions, according to a separate survey conducted by the firm Latino Decisions for three groups. Those respondents blame Republicans in Congress for their inaction on the issue—64 percent compared with 24 percent who blame Obama and the Democrats.
On Thursday, Obama announced a reprieve for the undocumented parents of children born in the U.S. and an expansion of permits for high-skilled foreign workers, saying he had to go it alone after Congress failed time and again to deliver a major rewrite of immigration policies. The move prompted House Speaker John Boehner's press secretary to dub the president "Emperor Obama" on Twitter. Other Republicans followed suit: Kentucky Senator Rand Paul, a possible 2016er, tweeted a "president who thinks he's a king starter pack" that included images of a crown and a throne. Even Saturday Night Live had some fun with the theme.
The polls show voters aren't necessarily in on the joke. In the Hart survey, the executive actions received support from 91 percent of Democrats, 67 percent of political independents and 41 percent of Republicans (51 percent of that group were opposed). What's more, that survey found that voters agree 51 percent to 41 percent that Obama has the legal authority to act, and by a margin of 48 points oppose aggressive Republican reactions such as shutting down the government and pursuing impeachment.
The Hart survey was conducted among 800 likely 2016 voters on November 19 and 20 and has margin of error of plus or minus 3.5 percentage points, according to a memo released by Americans United for Change.
The Latino Decisions poll compiled the responses of 405 randomly selected Latino registered voters nationwide who were interviewed Nov. 20-22. It has a margin of error of plus or minus 4.9 percent and was commissioned by Presente.org, an online organizing group; the National Alliance of Latin American and Caribbean Communities, a network of community groups; and Mi Familia Vota Education Fund, a civic participation group.
Before it's here, it's on the Bloomberg Terminal.
LEARN MORE