Ferguson Case Prosecutor Plans Press Conference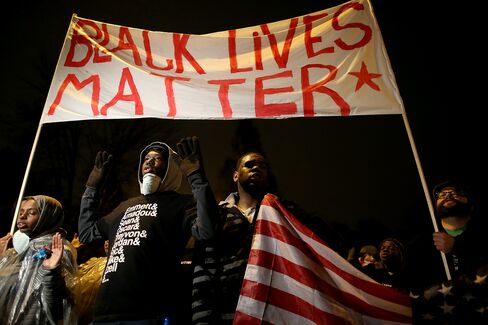 St. Louis County Prosecuting Attorney Robert McCulloch is to make an announcement regarding the grand jury reviewing evidence in the Ferguson shooting death of Michael Brown, a person familiar with the matter said.
The grand jury, which is meeting today in Clayton, another St. Louis suburb, was to break for the day at noon local time, said the person, who declined to be identified because the deliberations are secret. It was unclear whether the 12 jurors, nine of which are needed to indict, had reached a decision.
The Washington Post reported that a decision has been reached, citing unidentified people familiar with the matter.
McCullough will hold a press conference at either 4 p.m. or 7 p.m., the person said. Edward Magee, a spokesman for McCulloch, didn't immediately return an e-mail seeking comment. Barring discovery of additional relevant evidence, McCulloch won't bring charges or resubmit the case to another grand jury if Wilson isn't indicted, Magee has said.
Ferguson Police Officer Darren Wilson, 28, killed Brown, 18, in a street encounter on Aug. 9, firing at least six shots and triggering days of sometimes violent protests, looting and a police response that was criticized as militaristic. Some eyewitnesses said Brown was shot while raising his hands in surrender. Police said he attacked Wilson while the officer was in his patrol car.
Protests have been staged in Ferguson almost every night over the past few weeks, and demonstrations are planned across the country when the grand jury's decision is made public.
Secrecy
The Ferguson shooting jury could effectively deadlock by being unable to come to a consensus, said Clayton, Missouri criminal defense attorney Arthur Margulis.
Margulis, who isn't involved in the case, said potential crimes the grand jury has likely been considering include second degree murder by knowingly causing a person's death, or causing death while intending to cause serious injury; voluntary manslaughter arising from sudden passion; first-degree involuntary manslaughter for recklessly causing a death, or second-degree involuntary manslaughter for acting with criminal negligence to cause a death.
The grand jury began hearing evidence Aug. 20. Secrecy surrounds almost every aspect of the deliberations, in which they are to decide whether a white police officer should be charged with a crime for fatally shooting an unarmed black teenager.
Missouri Governor Jay Nixon, a Democrat, has mobilized National Guard troops to support local law enforcement agencies if there is unrest after the decision.
McCulloch's office hasn't divulged when or where the grand jury of nine whites and three blacks meets in Clayton, the seat of St. Louis County, which doesn't include the city of the same name.
The identities of the seven men and five women will be kept secret. When a decision is reached, the actual vote won't be disclosed, only whether the jurors voted for an indictment or for what's known as a no-true bill. State law prohibits disclosure of the vote.
Panel members are prohibited from disclosing anything they saw or heard in the proceeding, or expressing an opinion about it, said Paul Fox, director of judicial administration for St. Louis County.
Contempt
Violating that secrecy would put a juror in contempt of court with a penalty to be determined by a judge, Magee has said previously. He added that he's unaware of any such prosecutions in his 19 years in the prosecutor's office.
If there is an indictment, it will be reviewed by Circuit Judge Carolyn Whittington, who is overseeing the grand jury. The case would then go to Presiding Judge Maura McShane, who will schedule an arraignment. From there, it would be assigned randomly to a circuit judge in the court's criminal division.
Evidence before the grand jury won't be released unless approved by Whittington, Fox said yesterday. McCulloch has pledged to do so if no indictment is forthcoming.
"If the grand jury returns a no true bill, the judge anticipates the court will receive requests for grand jury records," Fox said. "Some of those requests will require the court to analyze the need for maintaining secrecy of the records with the need for public disclosure."
Before it's here, it's on the Bloomberg Terminal.
LEARN MORE