Why You Shouldn't Hold Your Breath About Benghazi Fading
A new congressional report rejects Benghazi cover-up allegations—but hints that Republicans aren't done with the issue.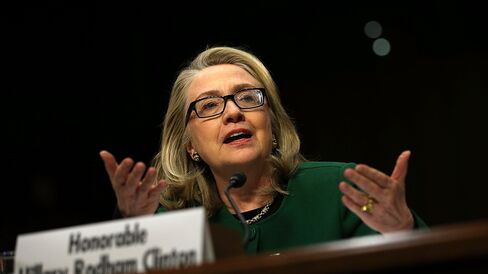 Lawmakers on the House Intelligence Committee have finally issued their report on the 2012 terrorist attack on the U.S. consulate in Benghazi, Libya, and found that … actually, no, the Obama White House did not orchestrate a massive cover-up.
It's a blow to Republicans—including potential 2016 candidates and many in the conservative media—who saw Benghazi derailing Democratic frontrunner Hillary Clinton, the head of the State Department at the time of the attack.
A Democratic representative on the Intelligence Committee, Adam Schiff, told the Associated Press that he hopes his counterparts on the House Select Committee on Benghazi "will accept these findings and instead focus its attention on the State Department's progress in securing our facilities around the world and standing up our fast response capabilities." In other words, it would be nice if we could stop wasting time, money and energy on false theories as we have for the last two years.
But don't hold your breath. For one, "an appendix written by Republican members urged further investigation of previous assertions that [Clinton] and other State Department officials failed to 'approve repeated requests for additional security' in Libya," according to our Bloomberg News colleague David Lerman. For another, there is now years of momentum behind the Benghazi issue. Just look at the numbers.
More than a dozen congressional hearings
According to the House Intelligence Committee's report, the group spent nearly two years and "thousands of hours of detailed investigation" to reach its findings and "reviewed thousands of pages of intelligence assessments, cables, notes, and emails; held 20 Committee events and hearings; and conducted detailed interviews with senior intelligence officials and eyewitnesses to the attacks."
As of May 2014, Congress had gone through "13 hearings, 25,000 pages of documents and 50 briefings," according to Politico. That includes Clinton's congressional testimony in January 2013 where she said, "What difference, at this point, does it make?" in response to questions about the motivation behind the attack.
http://www.youtube.com/watch?v=JFZytEUCXu4#t=56
The figure doesn't include the House Select Committee on Benghazi, led by Republican Representative Trey Gowdy. That committee had its first hearing in September.
The parade of hearings has weighed heavily on various federal departments. In a response to a letter from Democratic Representative Adam Smith on the costs of responding to the hearings, the Department of Defense said it had "devoted thousands of man-hours to responding to numerous and often repetitive congressional requests" for approximately 50 interviews, hearings and briefings.
"The total cost of compliance with Benghazi related congressional requests … is estimated to be in the millions of dollars," the letter said.
More than a thousand cable news segments
It's not just members of Congress who have poured hours to investigating the attack—Fox News has been obsessed. According to a report from the left-leaning Media Matters for America, Fox News ran 1,098 segments on Benghazi between the attack on Sept. 11, 2012, and the formation of the select committee on May 2, 2014.
That includes 478 segments on then-United Nations Ambassador Susan Rice's inaccurate talking points, which the new House report blames on bad intelligence; 281 segments alleging a cover-up, which the report rejects; and 100 segments on a "stand-down order" that the report says never happened.
Fox News hasn't completely ignored the report—here's anchor Ed Henry with a brief account:
http://www.youtube.com/watch?v=Zrb8U8aBEbI
Political attacks galore
According to the Media Matters report, Fox aired at least 105 segments linking the Benghazi scandal to Clinton's would-be campaign. Just in the last few months, Kentucky Senator Rand Paul has said that Benghazi is a "deal-killer" for Clinton, that it "precludes her from ever being considered as commander-in-chief," and that "we will make her answer for Benghazi."
In May 2014 Senator Ted Cruz called for a Senate select committee (and was blocked) and suggested Democrats "can't handle the truth" on Benghazi. The senator has also done several interviews demanding answers (many of which the House report supplies).
http://www.youtube.com/watch?v=OGBFgMS6_60
In June he said Clinton had "deliberately stonewalled" the release of documents related to the attack. "The truth isn't partisan," Cruz said. "There are basic questions that haven't been answered, and she views it as criticism."
Before it's here, it's on the Bloomberg Terminal.
LEARN MORE