Obama Threatens Veto as Boehner Decries Immigration Action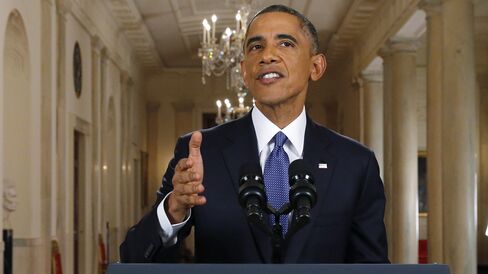 U.S. President Barack Obama would veto any legislation that would block his immigration orders, a top adviser said, as House Speaker John Boehner said his action damages the presidency.
Stiffening the administration's challenge to congressional Republicans, White House senior adviser Dan Pfeiffer said today Obama won't sign funding legislation that prevents him from carrying out his directive to temporarily halt deportations for about 5 million undocumented immigrants in the U.S.
Obama's action, which he outlined in a White House address last night, thrust to the forefront a long-simmering battle with Republicans over how to change the nation's immigration laws to deal with the estimated 11.4 million people already in the country illegally.
Boehner, an Ohio Republican, told reporters today that Obama has "deliberately sabotaged any chance of enacting the bipartisan reforms he claims to seek." He said the House would act to counter the president's plan, while declining to say how Republicans will wage their fight.
Homeland Security Secretary Jeh Johnson is scheduled to testify about the president's order at a Dec. 3 hearing of the House Homeland Security Committee, Chairman Michael McCaul, a Texas Republican, said in a statement today.
"I will use every tool at my disposal to stop the president's unconstitutional actions from being implemented," McCaul said.
Three Years
Obama's directive will defer for three years deportation for people who came to the U.S. as children and for parents of children who are citizens or legal permanent residents.
He also said in his speech that the Department of Homeland Security will streamline the visa process for foreign workers and their employers and give high-skilled workers a more flexible work authorization. DHS also will expand options for foreign entrepreneurs who meet criteria for creating jobs, and for graduates of U.S. universities in science and technology fields.
While Obama's actions amount to the most sweeping changes to the nation's immigration system in a generation, his actions don't go as far as the legislation that passed the Senate last year and got stalled in the House. They won't create an easier path to citizenship for those affected.
Presidential Election
The battle over immigration will shape the debate leading up to the 2016 presidential elections. Obama plans a cross-country tour to promote his actions and to challenge Republicans to act on immigration legislation, Pfeiffer said. He's traveling today to Nevada, a state with a fast-growing Hispanic population emblematic of Latinos' rising political power in presidential battleground states.
Republicans in Congress must confront a divide in their ranks over how far to go to stop him, including tensions over whether to risk shutting down the federal government.
Obama "created an environment where members would not trust him," Boehner said. "You can't ask the elected representatives of the people to trust you to enforce the law, if you're constantly demonstrating that you can't be trusted to enforce the law."
Obama said he had the authority to redirect the nation's immigration enforcement apparatus to target "actual threats to our security: Felons, not families. Criminals, not children. Gang members, not a mom who's working hard."
House Inaction
Democrats said Obama is issuing the immigration order because House Republicans have refused to act on legislation since the senators passed a bipartisan plan in 2013.
"The Republicans have literally done nothing in the House" on immigration, Pfeiffer said at a breakfast sponsored by the Christian Science Monitor.
House and Senate Republican leaders way they will avoid a government shutdown that could result if they use a government spending bill to try to deny Obama the funds to implement his orders.
Boehner and Senate Republican leader Mitch McConnell say they don't want a repeat of the October 2013 shutdown caused by a Republican bid to defund Obamacare.
Republicans will now use a congressional recess next week to determine whether they can unite around a strategy. Democrats control the Senate until January, and even when Republicans take over, they'll need Democrats to reach the 60 votes needed to advance most major legislation.
Before it's here, it's on the Bloomberg Terminal.
LEARN MORE