Jeb Bush Seeks to Change the Subject
The former Florida governor looks to China to refocus the education debate before the 2016 primary begins.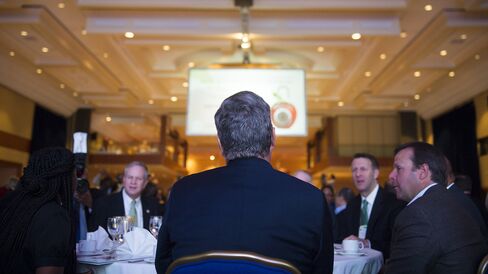 Former Florida Governor Jeb Bush sought to re-frame the debate within the Republican Party over national curriculum standards by comparing China's education system to Orlando's.
"This morning, over 213 million Chinese students went to school, and nobody debated whether academic expectations should be lowered in order to protect their students' self-esteem," Bush said during a speech Thursday in Washington. "Yet in Orange County, Florida … the school board voted to make it impossible for a student to receive a grade below a 50. You get 50 out of 100 just for showing up and signing your name."
The image is one Bush is using to ease the animosity within the conservative base of his party toward Common Core standards as he considers whether to run for president in 2016. The standards set minimum learning requirements in math and language arts and literacy for students from kindergarten through 12th grade.
While Bush reaffirmed his support for the standards, he asked to "take a step back" from the Common Core debate and instead come together over shared goals for academic success. "There is no question we need higher academic standards and—at the local level—diverse high-quality content and curricula," Bush said. "Even if we don't all agree on Common Core, there are more important principles for us to agree on.
In a political context, the academic measures—similar to immigration reform—have become anathema to voters who identify with the Tea Party movement. In an NBC/Wall Street Journal poll in June, 53 percent of Tea Party Republicans said they opposed Common Core standards. That contrasted with the country at large, which favored the standards 59 percent to 31 percent, and non-Tea Party Republicans, who backed them 49 percent to 42 percent. Some of Bush's prospective presidential primary opponents, including Louisiana Governor Bobby Jindal, has distanced themselves from the education program in response to that hostility.
The standards have been adopted by 43 states and Washington D.C., and are supported by President Barack Obama's administration and the Bill and Melinda Gates Foundation. States that adopt them qualify for grants from Obama's $4 billion Race to the Top program and can waive accountability requirements of the 2001 No Child Left Behind Act. Critics have argued the program amounts to a federal takeover of education.
In the speech at the National Summit on Education Reform, which is sponsored by Bush's foundation, he outlined a broader vision for academic policy, saying, "We would be insane if we recreated what we have today." If he could redesign school systems, Bush said, he would expand school choice, stop tying "every education dollar" to federal policies, and give teachers more autonomy and accountability. Bush also said technology could be used to better personalize education for students.
"Education should be a national priority, not turned into a federal program," Bush said.
He described education in America as "13,000 government-run, unionized and politicized monopolies who trap good teachers, administrators, and struggling students in a system nobody can escape" and called for Common Core to be the "new minimum" in classrooms.
"We should be willing to experiment," Bush said. "We should always look to improve our thinking based on the evidence. That is why the debate over the Common Core State Standards has been troubling."
Before it's here, it's on the Bloomberg Terminal.
LEARN MORE