Ben Carson Seeks to Assure Supporters He's Solid on Guns
He answers those skeptical about a 2013 statement he made about semi-automatic weapons.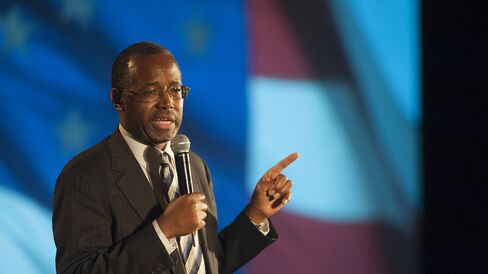 Ahead of a weekend trip to Iowa, potential 2016 Republican presidential candidate Ben Carson sought to assure supporters Wednesday evening that he's a strong Second Amendment supporter.
As he inches closer to the prospect of a presidential campaign, Carson used a conference call to try to address questions about his loyalty to gun rights. Skeptics often point to a statement the neurosurgeon-turned-conservative-activist made in 2013 to conservative talk-show host Glenn Beck, who asked whether people have the right to own semi-automatic weapons.
"It depends on where you live," Carson told Beck. "If you live in the midst of a lot of people, and I'm afraid that that semi-automatic weapon is going to fall into the hands of a crazy person, I would rather you not have it."
That statement has led some to unfairly label him as tepid on the Second Amendment, Carson said on the call.
"There seemed to be group of people—I don't know exactly who they are—who seize upon one part of something that I said," Carson said on the call, which Bloomberg Politics was allowed to dial into. "Sometimes people just hear one little thing and they don't hear anything else."
Carson said that he could have been more precise in his answer to Beck.
"Perhaps I didn't convey it appropriately," he said. "I wanted to convey that, you know, I've lived in urban areas. I've worked in urban areas. I've seen a lot of carnage, and I'd prefer a situation where the kinds of weapons that create that kind of carnage don't fall to the hands of criminal elements or insane people. But that is secondary to the desire to always defend the Second Amendment."
Carson said that "under no circumstances" would he "allow a bureaucrat to remove any law-abiding citizen's rights for any kind of weapon that they want to protect themselves."
If he were in a position of national leadership, Carson said he would seek to allow people to possess any kind of weapon they can legally buy, including "automatic weapons and semi-automatic weapons."
Asked by one call participant whether he would support convicted felons being allowed to possess guns after serving their time, Carson said it would "depend on what kind of criminal activity they were convicted for." He added, "Is this somebody who is still considered a danger to society? If that's the case, they probably still should be in prison."
Carson said a "mental patient" or someone with "history of violence" shouldn't be able to own "anything" to "wreak havoc on society." That, he said, could be part of a "reasonable" gun-control law. The government also shouldn't "retrospectively" go back to make once-legal guns illegal, he said.
As he travels the nation, Carson said he is being encouraged by many to run for president. Iowa, his destination this weekend, is where voting starts for the presidential nomination and is a state where guns are an important topic for many voters.
"It's very humbling to recognize that so many people are rooting for me to do something," he said, adding that he still isn't certain that he's "enthusiastic" about a White House bid.
If he does run, Carson said the primary process would allow him and other candidates to "clarify all those things" that might be of concern to Republicans and that his "true identity and the true feelings" would be revealed.
In Iowa, Carson is set to speak at the "Celebrate the Family" fundraising dinner for the Family Leader, a coalition based in the Hawkeye State that opposes abortion rights and gay marriage.
MORE ON BLOOMBERG POLITICS
Before it's here, it's on the Bloomberg Terminal.
LEARN MORE