Why One Senate Democrat Flipped on Keystone
U.S. Senator Tom Carper says the issue deserves an up-or-down decision.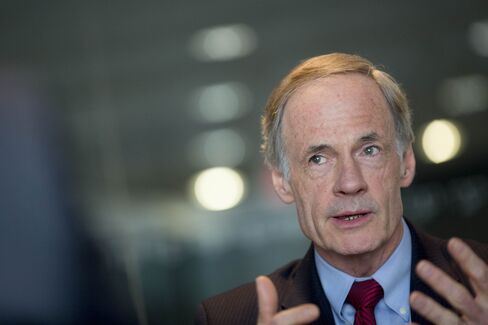 U.S. Senator Tom Carper, the top Democrat on the Homeland Security & Governmental Affairs Committee, is one of a handful lawmakers in the chamber who say they'll drop their previous opposition and support the Keystone pipeline in one of the final votes of the year, one that may help Mary Landrieu's re-election campaign in Louisiana.
"Senator Landrieu has been cajoling, pleading with her colleagues—mostly Democrats—to provide an up or down vote on this," Carper said in a recent interview with Bloomberg Politics. "I think the time has come."
Carper, a former Delaware governor, had opposed the project, saying he wanted "due diligence" completed. Now, he says Americans have waited long enough. "We've waited a long time for the State Department to finish their reviews," Carper said. "We've been waiting a long time for the states, for the courts to act. ... For all the work that Mary Landrieu and (North Dakota Republican) John Hoeven have done, this deserves an up or down vote."
Carper also said pipelines are a relatively safe way to transport oil. "We have train tanker cars moving a lot of oil through the U.S., moving a lot of oil, and I'm not sure that records indicate the last couple of years we always do that safely," Carper said. "An argument can be made that pipelines can deliver oil and move oil in a safe way, maybe safer than rail."
Before it's here, it's on the Bloomberg Terminal.
LEARN MORE