The Very Mild Race War in Louisiana's Runoff
Pitches to black voters and warnings of executive amnesty go on the air.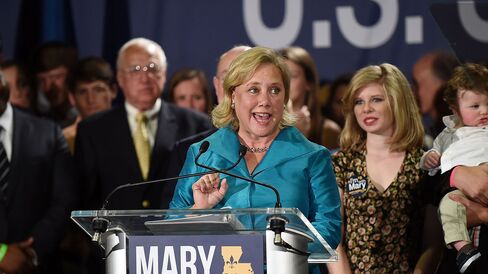 The only quasi-competitive 2014 race left is Louisiana's U.S. Senate runoff, which Senator Mary Landrieu appears to be losing. Like the rest of the Deep South, modern Louisiana is basically a black/white math problem. To win, Landrieu needs monster turnout from black voters, whom she won by 91 points in the first round, and needs to win around 30 percent of the white vote.
First things first. Conservatives have captured and uploaded an ad that the Louisiana Democratic Central Committee is running on black radio stations. In it, a vote for Landrieu is portrayed as a vote to punish haters of the first black president.
"They have shown our president so much disrespect," says the narrator. "From playing the race card in commercials, talking about trying to impeach him, to lying about the progress the country has made under his leadership." The narrator rattles off some positive facts about the stock market and the jobs market, then tells listeners that "the president needs you to have you have his back, now more than ever."
Ads like these come with strong downsides. Remember, this one was uploaded by conservatives– they are on the hunt for clips that can link Landrieu to Obama. While this ad plays on the radio, Republican Representative Bill Cassidy has started to run a straight-to-camera spot that reminds voters of the president's post-election promise to use executive action to slow down deportations.
"Your tax dollars should benefit you, not those here illegally," says Cassidy.
Eighty-two percent of white non-Hispanic voters went Republican in the first round of the election. With the Dec. 6 runoff rapidly approaching, this is the sort of message that can persuade them not to stray.
Before it's here, it's on the Bloomberg Terminal.
LEARN MORE